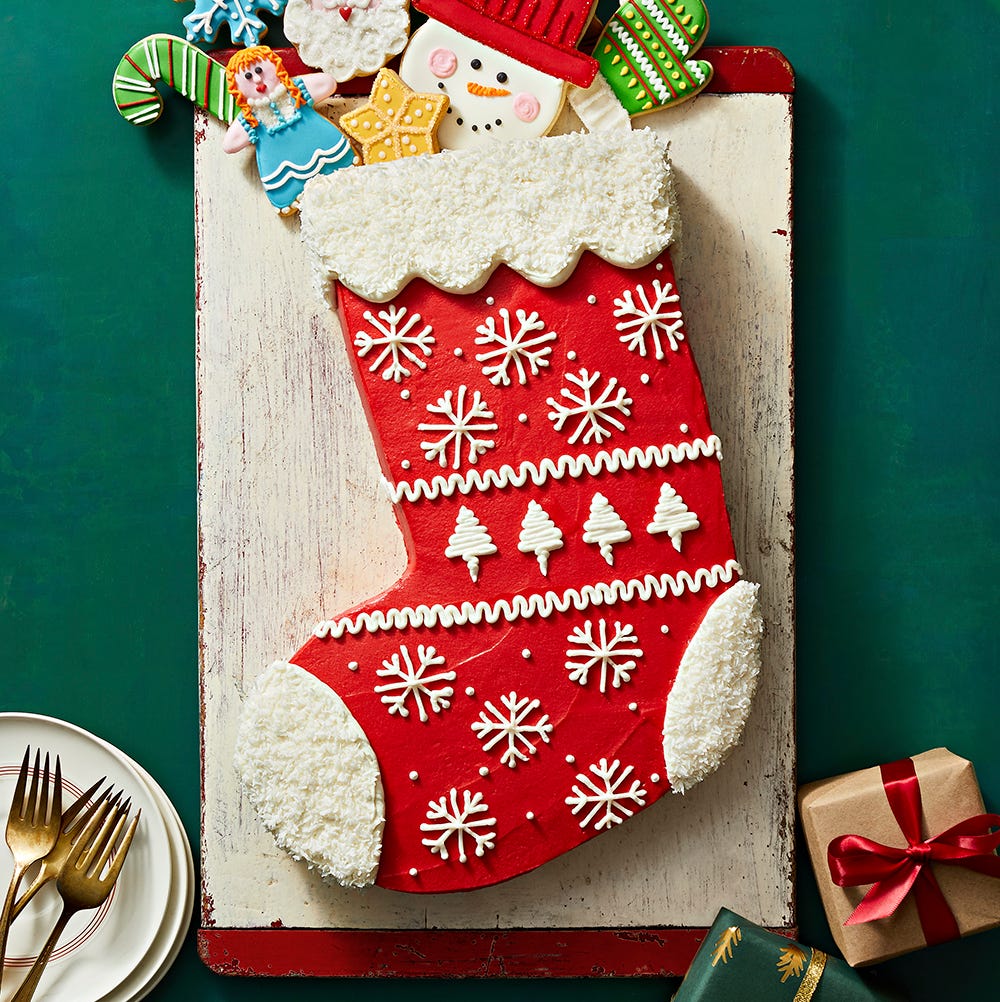 Mike Garten
In this ultra-festive dessert, classic yellow cake gets a merry makeover with red-and-white frosting, sprinkles, and sanding sugar.
Advertisement - Continue Reading Below
Ingredients
Cake
1 c.

(2 sticks) unsalted butter, at room temperature, plus more for pan

3 c.

all-purpose flour

1 tbsp.

baking powder

1 tsp.

kosher salt

1 3/4 c.

granulated sugar

4

large eggs

2 tsp.

pure vanilla extract

1 1/4 c.

whole milk, at room temperature
Buttercream frosting
1 lb.

confectioners' sugar

1 c.

(2 sticks) unsalted butter, at room temperature

2 tbsp.

heavy cream

2 tsp.

vanilla extract

Red food coloring

Sanding sugar and nonpareils,for decorating
Directions
Step 

1

Make cake: Heat oven to 325°F. Butter 9- by 13-inch cake pan and line bottom with parchment paper, leaving overhang on 2 sides; butter parchment.

Step 

2

In medium bowl, whisk together flour, baking powder, and salt. In large bowl of electric mixer, beat butter and granulated sugar on low to combine. Increase speed to medium-high; beat until light and fluffy, about 3 minutes. Reduce speed to medium; add eggs 1 at a time, beating until incorporated after each addition. Beat in vanilla.

Step 

3

Reduce speed to low and add flour mixture in 3 parts, alternating with milk and beating until just incorporated.

Step 

4

Spread batter in prepared pan and bake until wooden pick inserted in center comes out clean, about 40 minutes. Let cool
in pan 10 minutes, then use overhangs to remove cake and let cool completely.

Step 

5

Meanwhile, make butter­cream frosting: Into large bowl, sift confectioners' sugar. Using electric mixer, beat butter on medium until creamy, about 2 minutes. Reduce speed to low and gradually add sifted sugar, alternating with heavy cream. Mix in vanilla. Increase speed to high and beat until fluffy, about 2 minutes.

Step 

6

Transfer 1 cup frosting to small bowl. Using red food coloring, tint remaining frosting bright red.

Step 

7

Draw stocking shape on parchment paper and cut out to use as template. Using serrated knife, cut cake in shape of template; reserve trimmings for another use (see tip).

Step 

8

Spread red frosting over cake and decorate with white frosting and sanding sugar and nonpareils as desired.

Crumble any leftover cake into fine crumbs and mix with buttercream frosting (¼ cup frosting per 1 cup cake crumbs). Roll mixture into 1-inch balls, place on parchment-lined baking sheet, and refrigerate until firm, about 1 hour. Dip into melted chocolate or candy melts and chill until set.