Spring Garden Art Focaccia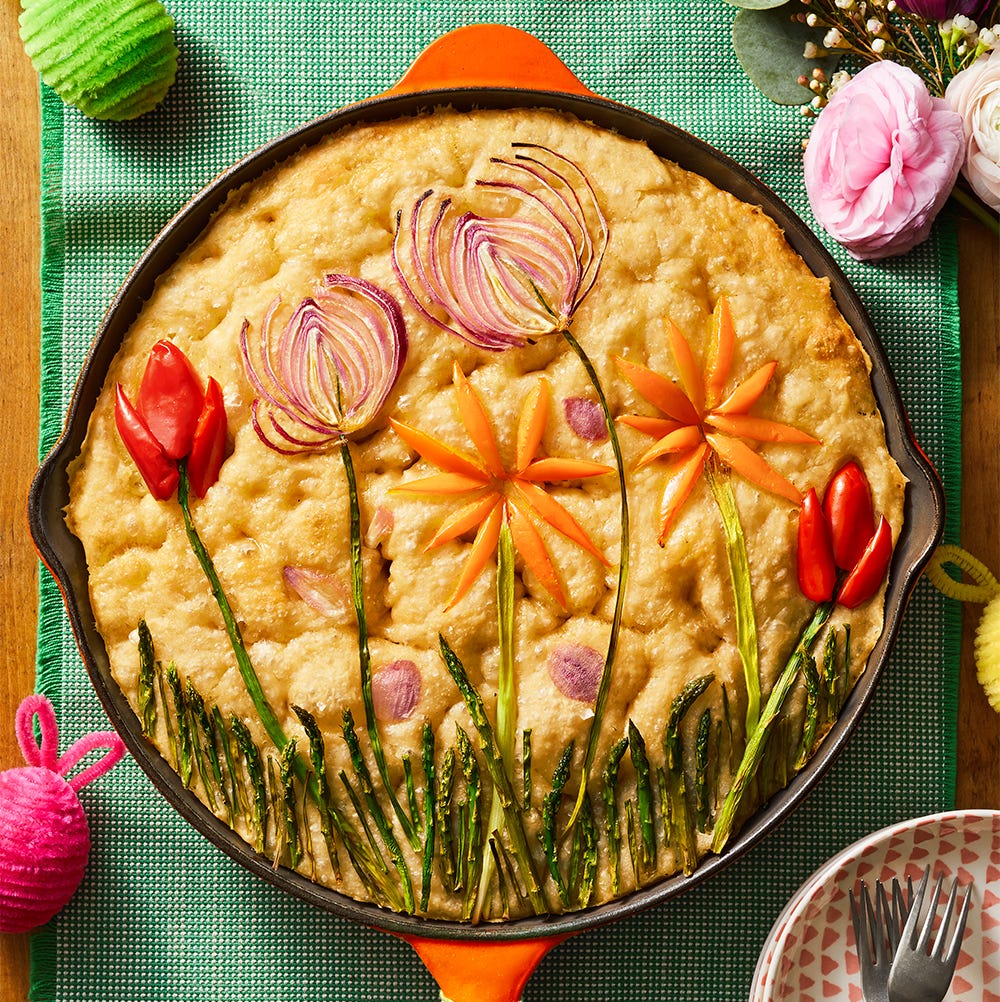 Mike Garten
Select seasonal produce to decorate this spring stunner that's perfect for Easter brunch (or anytime!): Asparagus and chives make convincing greenery.
Advertisement - Continue Reading Below
Yields:

10 - 12

serving(s)

Total Time:

2

hrs

15

mins
Ingredients
For Focaccia
4 c.

all-purpose flour

2 tsp.

instant yeast

2 tsp.

kosher salt

1 tsp.

sugar

2 1/4 c.

lukewarm water (warm to the touch but not hot)

1/4 c.

plus 2 tablespoons olive oil, plus more for greasing

1 tsp.

flaky salt
For Toppings
3

to 3 small red onions, halved through cores and peeled

1 tbsp.

lemon juice

Red mini sweet peppers, stemmed

Yellow bell peppers, stemmed

Pencil asparagus, cut into varying lengths (1½ inches for grass; 5 inches to 8 inches for flower stems; thicker stalks halved lengthwise)


to 8 inches for flower stems; thicker stalks halved lengthwise)

Chives, cut into varying lengths (3 inches to 9 inches)
Directions
Step 

1

Make focaccia dough: In large bowl, whisk together flour, yeast, salt, and sugar. Stir in lukewarm water until dough forms; scrape down bowl so no dough clings to sides. Cover bowl tightly with plastic wrap. Refrigerate until dough doubles in volume, 12 to 24 hours.

Step 

2

About 1½ hours to 3 hours before baking, coat bottom and sides of 12-inch cast-iron skillet with ¼ cup olive oil. Using stiff rubber spatula or bowl scraper, pull in edges of dough to meet in center (this will deflate dough and prepare it for second rise). Invert dough onto oiled skillet.

Step 

3

Using fingertips, gently push dough as much as possible into sides of skillet. Cover tightly with plastic wrap and let rise until almost doubled in volume, 1½ hours to 2 hours. (it will continue to rise as you decorate top).

Step 

4

Meanwhile, prepare toppings: Using mandoline and starting cut sides down, slice onions at least 1/6 inch thick. Select prettiest slices for larger flowers (these will come from first few slices) and reserve smaller slices for smaller flowers. Cut tips off of more bulbous ends of these slices. For larger tulips, use paring knife to cut through tip (first 2 or 3 layers) in exact center of each slice and splay cut "petals" out slightly. Mix lemon juice with 1 tablespoon water and brush generously onto onion slices. 

Step 

5

Cut mini peppers into varying lengths (1½ inches to 2¼ inches); cut each in half lengthwise. Save 1 half for center "petal" of each tulip, trimming off bottom corners to create rounded petal shape. Cut remaining peppers in half lengthwise (these are outer petals). Repeat trimming to create rounded petal shape. 

Step 

6

Cut bell peppers into strips, tapering both ends of each.

Step 

7

Bake focaccia: Heat oven to 425°F with rack in lowest position.

Step 

8

Uncover dough and coat fingertips in oil. Working quickly, "dimple" dough by inserting splayed fingertips straight to bottom of pan and pulling back up. Drizzle top of dough with remaining 2 tablespoons oil and sprinkle with flaky salt.

Step 

9

Top dough as follows and press gently to make it adhere: Start with grass (asparagus) at base, then create large purple flowers (red onions) and stems (chives). Add tulip stems (asparagus) and tulips (mini peppers). Repeat with bell pepper strips, arranging in concentric circles for flowers, and asparagus for stems. Next add smaller purple flowers and their stems (chives). Finish with more grass (asparagus and chives) to fill out.

Step 

10

Bake on bottom rack 15 minutes, then remove from oven. Using small pieces of foil, cover just flower and grass area to prevent charring, exposing as much of focaccia background as possible. Bake until exposed dough is golden brown, about 15 minutes. Remove foil and let cool 5 minutes. Using offset spatulas, transfer focaccia to wire rack. Let cool at least 5 minutes before serving.