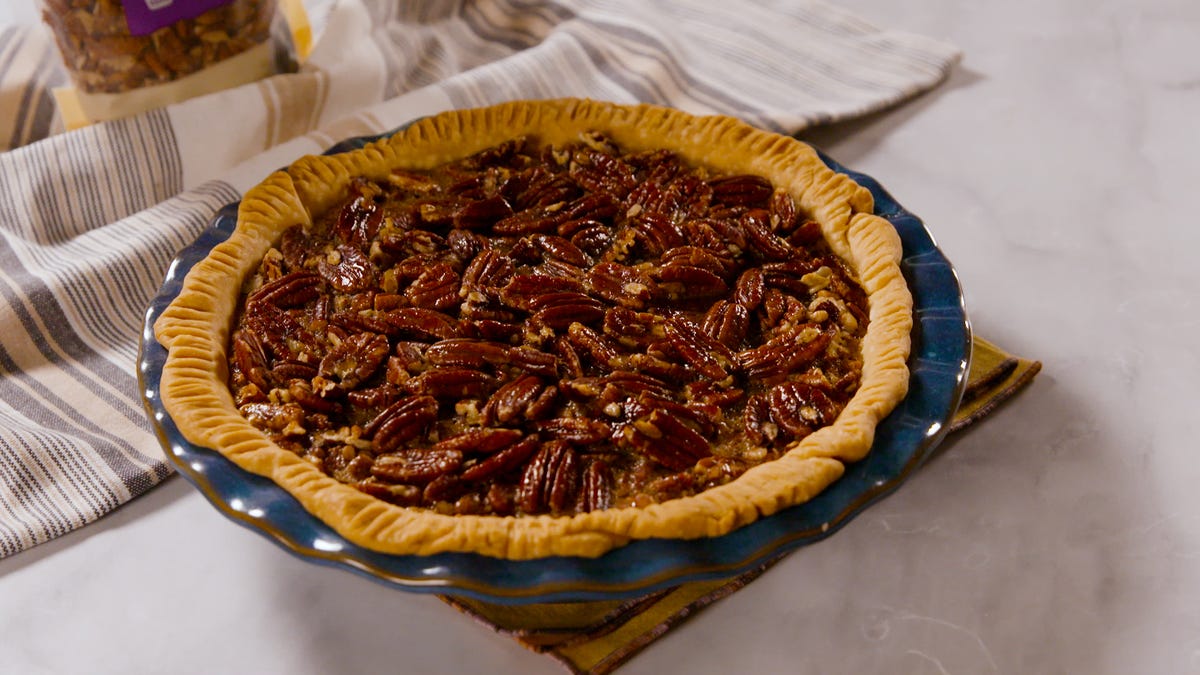 The rich, caramelized flavor of pralines gives this holiday dessert staple an irresistible twist, and the extra dose of salt keeps you coming back for bite after bite. Chock-full of sweet, earthy Southern Grove Chopped Pecans from ALDI, this indulgent pie is definitely worth saving room for dessert.
Advertisement - Continue Reading Below
Ingredients
For the crust:
1 1/2 c.

all-purpose flour, plus more for surface

1 tsp.

granulated sugar

1/4 tsp.

kosher salt

1/2 c.

(1 stick) unsalted butter, cut into ½" pieces and chilled

1 tsp.

Simply Nature Apple Cider Vinegar

4 tbsp.

ice water, plus more if needed
For pecan filling:
1 c.

packed light brown sugar

1/2 oz.

light corn syrup

4 tbsp.

unsalted butter, cubed

1/4 c.

heavy cream

1/2 tsp.

kosher salt

3

large eggs

2 tsp.

pure vanilla extract

2 1/2 c.

Southern Grove Chopped Pecans, divided

Friendly Farms Whipped Cream, for serving
Directions
Step 

1

In a large bowl, whisk together flour, sugar, and salt. Add butter, and, using your hands, mix together until pea-sized and some slightly larger pieces form. Add vinegar and then ice water, 1 tablespoon at a time, until dough starts to come together and is moist but not wet and sticky (test by squeezing some with your fingers). Mixture will be crumbly.

Step 

2

Gently kneading, form dough into a ball, then flatten into a disk. Cover in plastic wrap and refrigerate until dough is very cold, at least 1 hour or up to 3 days in advance.

Step 

3

On a lightly floured surface, roll dough to a 13" circle. Transfer rolled-out dough into a 9" pie pan. Trim, leaving a 1" overhang, then tuck overhang under edge of pan. Press edges of dough with the tines of a fork, if desired. Freeze 15 minutes.

Step 

4

Meanwhile, make the pecan filling: In a medium sauce pan over medium-high heat, combine brown sugar and corn syrup. Bring mixture up to a boil, and continue to boil until it is a deep amber color, 1 to 2 minutes. Add the butter, cream, and salt, whisking to combine. Continue to boil until mixture is slightly thickened and caramel-colored, about 2 minutes more. Pour into a medium, heatproof bowl and let cool 20 minutes.

Step 

5

Preheat oven to 375° with a rack in the middle and bottom of the oven, and line a rimmed baking sheet with foil. Whisk eggs into slightly cooled praline mixture until well combined, and then add the vanilla extract. Stir in 1½ cups of the Southern Grove Chopped Pecans. Scrape pecan mixture into chilled pie crust. Sprinkle remaining cup of pecans evenly over top.

Step 

6

Place prepared baking sheet on bottom oven rack to catch any drips. Bake pie on the middle rack until filling is puffed and set and crust is golden, about 1 hour. Let cool to room temperature, then cool completely in the refrigerator. Serve slices topped with whipped cream.