Every item on this page was chosen by a Woman's Day editor. We may earn commission on some of the items you choose to buy.
The 15 Best Walking Shoes for Women in 2023, According to Experts
These top picks are functional and fashionable.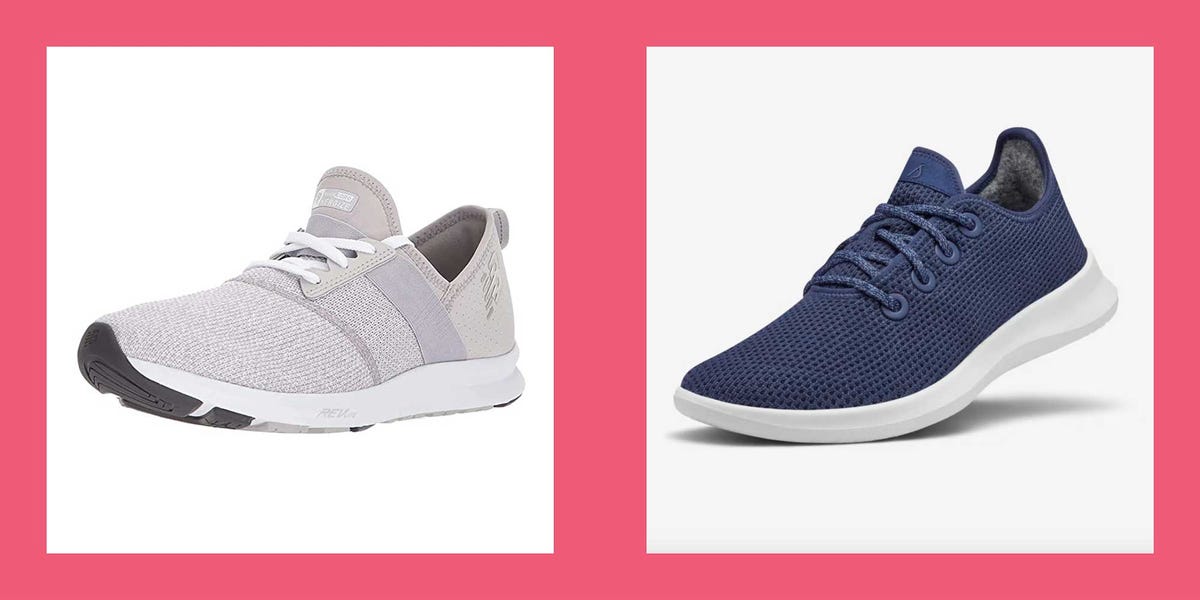 New Balance/Allbirds
Walking provides all sorts of health benefits, from lowering blood pressure, to strengthening immunity, improving sleep quality, and even relieving symptoms of anxiety and depression. With everything you stand to gain from getting your steps in, you'll want to make walking a regular part of your routine, whether in the form of focused exercise, running errands, working, sightseeing, or socializing. Before you lace up and head out the door, it's critical to ensure you're wearing shoes that will support and protect your feet from pain and injury. Ahead, you'll find the best walking shoes for women, based on the recommendations of podiatry professionals and outdoor lifestyle experts.
According to Dr. Jacqueline Sutera, DPM, spokesperson for the American Podiatric Medical Association (APMA), walking shoes should provide plenty of shock absorption, arch support, and cushioning. And Dr. Nelya Lobkova, DPM, board certified surgical podiatrist and founder of Step Up Footcare in New York City, says that choosing a good pair really matters. "Walking shoes should really be the shoe of choice for women when planning on commuting, hiking, or packing for a trip. Even when walking to the grocery store, a walking shoe should be worn to offer adequate grip and avoid injuries," she says. "Walking shoes offer enough stability and support for various walking surfaces, prevent multiple lower extremity injuries, and typically don't wear out as fast as other shoes from heavy use."
The best walking shoes for women to buy in 2023:
And if you're worried that "comfortable" is another word for unfashionable, you'll be pleased to see that there are several attractive pairs below. The same holds true for our picks in comfortable high heels, the best running shoes for women, and comfortable dress shoes for standing all day.

Advertisement - Continue Reading Below
Advertisement - Continue Reading Below
Advertisement - Continue Reading Below
Advertisement - Continue Reading Below
Advertisement - Continue Reading Below
What to look for when shopping for walking shoes for women
"I see many women who work on their feet for many hours, for instance doctors, nurses, chefs, and painters. They have different requirements for shoes depending on work-related hazards," Dr. Lobkova says, but across the board, they all benefit from a walking shoe that has the following:
✔️ A slightly elevated heel: This will reduce tension on the Achilles tendon.
✔️ A cushioned ball of the foot: This is preferable to shoes that are flat or not cushioned.
✔️ Material that is easily cleaned: This way, the shoe won't harbor bacteria or fungus.
✔️ Easily removable: Look for shoes that are designed to be easy to take off in case of emergency or injury.

Are there other factors to consider when buying walking shoes?

In order to find the best walking shoes for your specific needs, Dr. Lobkova recommends taking into account three important variables: the walking surface, average walking distance, and the climate they'll be used in.
With regards to the surface, you should think about whether you'll primarily walk on concrete or soil, since these materials require different biomechanical support. Dr. Lobkova also points out the differing needs based on climate. She explains that in a warm climate, the optimal walking shoe will have a mesh or breathable upper, whereas a wet and cold climate requires a leather or Gore-Tex weather-proof upper.

Contributing Writer
Alesandra is a digital travel and lifestyle journalist based in Los Angeles whose work has appeared in Good Housekeeping, Woman's Day, Prevention, Insider, Glamour, Shondaland, AFAR, Parents, TODAY and countless other online and print outlets. Alesandra has a masters degree in journalism with an emphasis on cultural reporting and criticism from NYU, and a bachelor's degree from UC Berkeley. An avid traveler, she trots the globe with her husband and their twins.

Sam Lawyer is a lifestyle writer and television producer based in New York City. She's been contributing to Woman's Day for nearly five years, and covers a variety of topics from gifting, to health, and entertainment. Her work has additionally been featured in Cosmopolitan, Country Living, and Good Housekeeping. When she's not writing or producing, you can find her binging her favorite Bravo shows or getting walked by her French Bulldog.