Every item on this page was chosen by a Woman's Day editor. We may earn commission on some of the items you choose to buy.
The 8 Best Dog Strollers of 2023, According to Reviews
These dog strollers are great for getting some fresh air without tiring out your pet.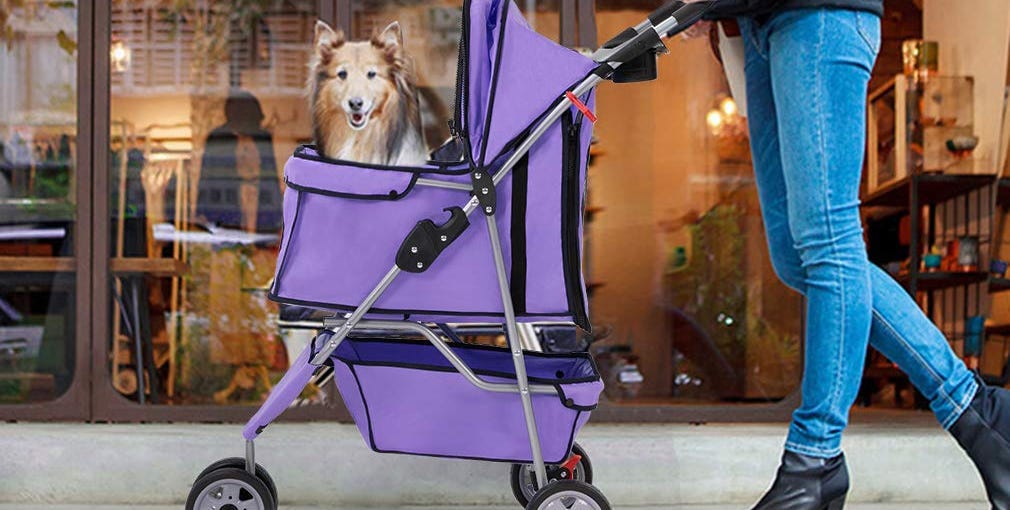 BestPet
Pet parents love to bring their dogs along with them wherever they go. But some things — like mobility issues, age, and little legs — can make it hard for them to comfortably tag along. Enter the dog stroller. These devices can help you take your furry friend out for a walk while making sure neither one of you get too tired along the way. The best dog strollers will come with a few special features (like plenty of space to bring along things like homemade dog treats and their favorite outdoor dog toys) but also be easy to transport and store while not in use.
The good news is that your dog isn't the only one who can benefit from the use of a dog stroller. Many people may also appreciate having the ability to pop your pup into a wheeled device because it makes it easier to maneuver your dog through crowded city spaces while also protecting you from getting hurt while walking (there's no worrying about getting yanked by an over-eager dog or having to keep up with a quick walking pup who wants to go go go).

The best dog strollers to buy in 2023:
Whether you're searching for a way to help your dog enjoy an afternoon stroll or to make it easier for you to keep up with your dog's daily walks, a dog stroller may be just the thing.
Looking for more of the best products for dogs? Check out some of our top guides:
Best Dog Harnesses | Where to Buy Dog Crocs | Best Interactive Dog Toys

Advertisement - Continue Reading Below
Advertisement - Continue Reading Below
What to look for when shopping for a dog stroller

✔️ Weight capacity: A good place to start when selecting a dog stroller is to consider how heavy your dog is, since each stroller will have its own weight limit. As K9 of Mine notes, most strollers are equipped to accommodate small dogs, however there are a few exceptions available for larger animals.
✔️ Size: Though they sound similar, size and weight are two different considerations when shopping for a stroller. Dog Parenting 101 warns against neglecting this aspect, since it's possible that a stroller can accommodate a dog's weight, but not their size. To measure your pet, the blog suggests measuring them from nose to tail, and then by width, and comparing them to the stroller's interior dimensions. If they're too close in size, it's always better to size up, so your dog has plenty of space to stretch out and get comfortable.
✔️ Safety features: K9 of Mine points out that there are several pet stroller safety features to keep an eye out for. These include hand brakes, which will ensure your dog doesn't roll away if you get distracted for a moment. Other strollers come with safety belts, which are useful for dogs who are new to strollers and have a tendency to jump.
✔️ Bonus features: Finally, since this is a product you'd like to get a lot of use out of, there's nothing wrong with incorporating fun add-ons into your decision making. Some features available in popular strollers include cup holders, storage for personal items, and quick-folding mechanisms for the ease of packing it away or taking it on a trip.
Advertisement - Continue Reading Below
FAQ

Why use a dog stroller?
All dogs love getting a chance to go outside and see (and smell) new and exciting things but not all dogs have the same abilities when it comes to motility. Some smaller dogs may tire easily while older dogs may feel pain or discomfort thanks to arthritis or other ailments. A dog stroller allows them the chance to take in the great outdoors without overexerting themselves... or worse.
Are strollers just for walks?
Your dog stroller can actually pull double (or triple) duty. You can use it to transport your pup to and from the vet or groomers and even take them along for the ride while you hit the shops.
How do I get my dog comfortable in the stroller?
Just like anything new, you'll likely need to practice a bit with your pooch before you're both feeling completely comfortable using the stroller. We recommend using the stroller indoors at first. Pick a time when both you and your pet are well rested and feeling up to trying something new. Start slow and let them investigate things on their own for a while and then work up to the idea of securing them into the stroller. Once they seem comfortable you'll be ready for your first test drive.
Why can't I use a regular stroller?
If you have a stroller that your child has outgrown you may be tempted to save a few bucks and repurpose that into a sweet new ride for Fido. However, it's important to remember that dogs and small children have different needs when it comes to comfort and safety, and a child's stroller isn't designed for use with a dog. Dogs need a sturdy flat surface and either an enclosure or a spot to tether their leash to keep them from getting loose.

Sam Lawyer is a lifestyle writer and television producer based in New York City. She's been contributing to Woman's Day for nearly five years, and covers a variety of topics from gifting, to health, and entertainment. Her work has additionally been featured in Cosmopolitan, Country Living, and Good Housekeeping. When she's not writing or producing, you can find her binging her favorite Bravo shows or getting walked by her French Bulldog.

Contributing Writer
Lauren Wellbank is a freelance writer based in the Lehigh Valley region of Pennsylvania. Her work has appeared in The Washington Post, Huffington Post, Martha Stewart Living, and more. She has three small children, a husband, and an over eager dog at home. When she's not writing she likes to work in her garden with her family.