20 Unique Easter Traditions That Show How the Holiday Is Celebrated Around the World
Want to know how to celebrate Easter across the globe? Check out these traditions.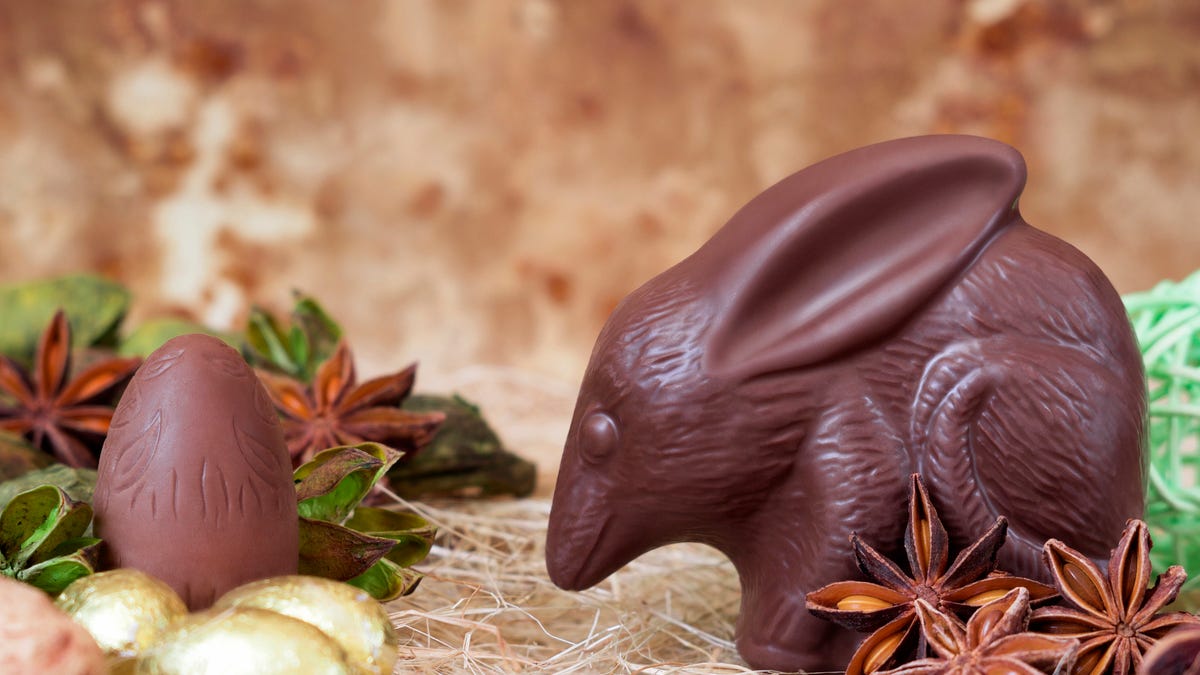 Easter is a holiday celebrated around the globe. And while some people may celebrate it in a familiar way that includes Easter traditions like tracking the Easter bunny or decorating Easter eggs, there's a whole world of other ways people mark the holiday. Many of these Easter traditions are still steeped in the religious rituals that Christian-based faiths use to celebrate the resurrection of Jesus — including some of the more spiritual celebrations like Holy Week and Lent. Other Easter traditions around the world, though, focus more heavily on the fun of having a generous bunny sneak into your home once a year to hide Easter eggs and leave sweet treats the whole family can enjoy.
Learning more about the way different religions, regions, and communities celebrate Easter can not only help you understand more about the holiday itself, but it can give you some new ideas that you may want to try incorporating into your own family celebrations. Whether it's going monochromatic with your egg dye like revelers in Greece or tacking on an extra day of fun by celebrating Easter Monday like they do in South Africa, read on to learn about 20 unique Easter traditions from around the world.
1
Eating Ham and Deviled Eggs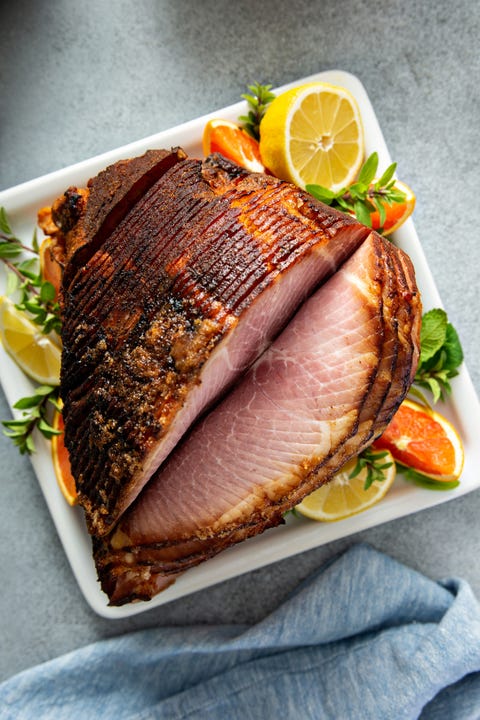 VeselovaElena
The Easter Bunny isn't the only one with a thing for eggs. Many people throughout America sit down around a dinner table that's laden with holiday favorites like ham and deviled eggs, according to the Farmer's Almanac.
Ham became a popular dinner choice years ago largely by default, since the pigs that went to slaughter in the fall would've had plenty of time to cure over those long winter months, making them ready for eating just as spring rolled around.
Similarly, deviled eggs are a popular choice because of the way eggs are used symbolically throughout the holiday as a symbol of rebirth.
RELATED: 28 Easy and Delicious Recipes to Make with Leftover Easter Eggs
2
Wearing Easter Bonnets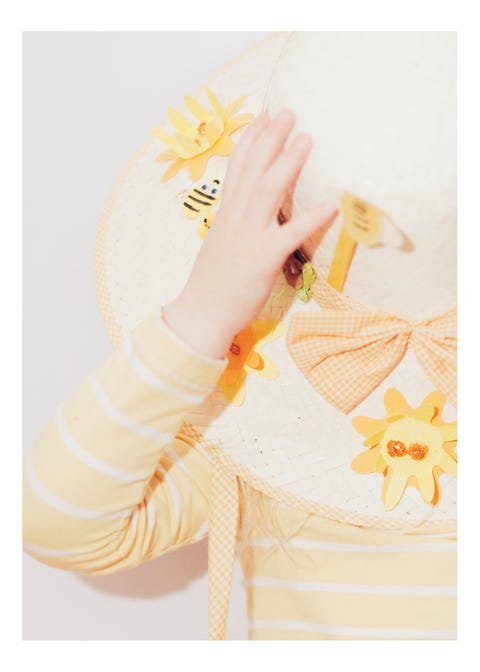 Helen Greenwood
Another Easter tradition in America is the donning of the Easter bonnet. This fancy hat became a popular addition to Sunday church attire because of how it represents a commitment to renewal when paired with new Easter clothes.
These head coverings are loosely tied with the end of Lent, which is when they would be purchased assumably after a period of frugal financing where such luxuries were typically not purchased.
They're also a great Easter craft for kids who want to DIY their way to a new holiday hat. In fact, at the height of their popularity in the 1990s, department stores would often sell kits for children who would then enter their hats into a contest.
3
Dining on Hot Cross Buns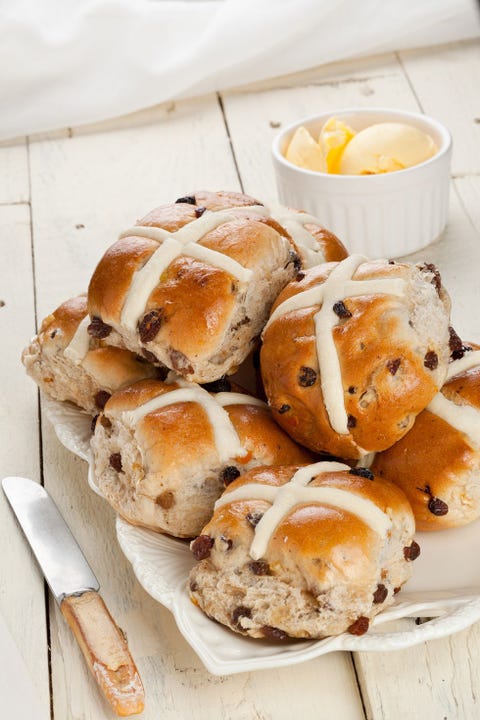 Getty Images
In New Zealand and parts of Australia, hot cross buns are more than just a tune you have to learn as a kid; they're an Easter favorite. The island countries enjoy noshing on these dense treats on Easter, which occurs during their meteorological fall.
Once you know that Easter comes right before their winter, it makes more sense that they'd be drawn to this bit of comfort food over the holiday.
Advertisement - Continue Reading Below
4
Dyeing Easter Eggs Red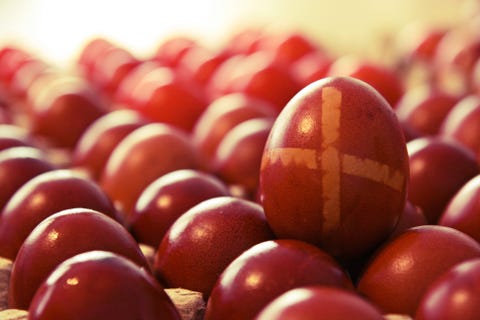 tanjica perovic photography
//
Getty Images
In Greece, those who celebrate Easter through the Orthodox church forego the typical mix of colors when it comes time to dye eggs, instead focusing on a singular shade: red.
The crimson hued eggs are doubly symbolic since they use the eggs to represent rebirth and the color red for Jesus' blood, marking the triumphant return of the son of God.
People can get very creative with their red eggs, creating different shades, intricate designs, and more.
5
Starting a Bonfire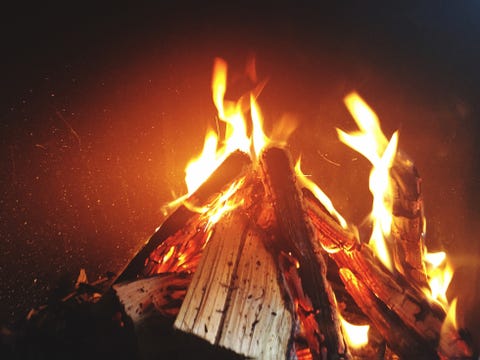 Getty Images
In some parts of Europe, people will celebrate Easter by striking a match. In Northwestern European communities it's common to kick off a two-day celebration that begins on Sunday by starting a bonfire.
These fires are aptly named Easter Fires, and they were originally set to help chase the darkness of winter away. Over the years they've become a fun way for community members to come together and celebrate the coming spring.
We have to imagine that they've kept their popularity over the years thanks to being the first big gathering following weeks of winter solitude.
6
Going Vegan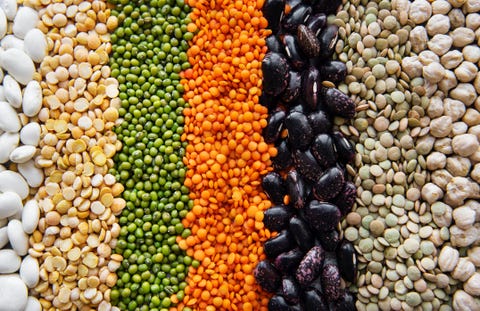 Getty Images
While many places around the world celebrate Easter by loading up the dinner table with all the tastes of the season, they do something a little different in Ethiopia and practice a period of fasting similar to Lent in the Western church.
Christians in the region celebrate "Fasika," which is the Amharic word for Easter, and refers to the 55-day period of time leading up to Easter Sunday. During this time, all meat and animal products are off the menu until after Sunday service when Faskia ends with a rousing celebration full of food, dancing, and family.
Eating supper on Easter is actually a bigger deal than Christmas dinner for these Christians, which is why they spend so much time gearing up for the big day.

RELATED: 45 Delicious Lenten Recipes That'll Make You Forget Meat
Advertisement - Continue Reading Below
7
Celebrating Easter Monday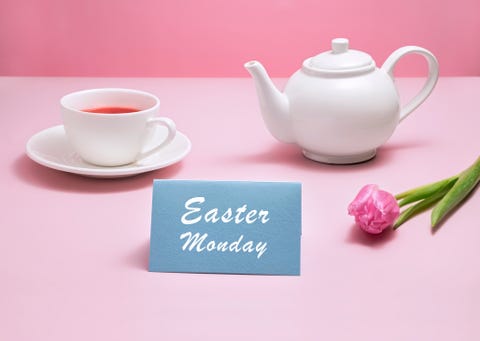 Elena Dy
In some places like South Africa, there's an additional holiday that follows the Sunday celebrations known as Easter Monday. The Monday after Easter got its official recognition in the 1990s when the government decided to grant citizens an additional day off with their friends and family so that they could have some extra time to recover from all the fun they had during the weekend.
We love having an extra reason to celebrate, and we're sure that South African residents love getting an extra day off to spend with their nearest and dearest.
8
Flying Kites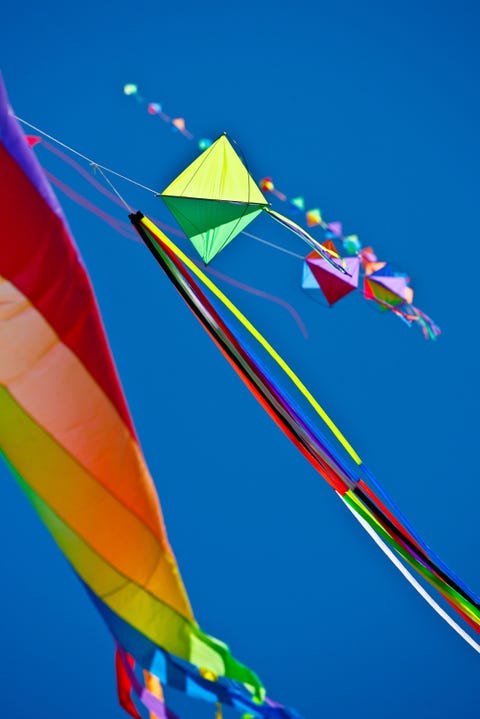 Tatami_Skanks
//
Getty Images
Celebrating Easter is a weekend affair for those who live on the British island of Bermuda. Festivities begin with the Good Friday KiteFest, according to the island's travel site Go to Bermuda.
You can watch people fly their homemade kites at Horseshoe Bay Beach, which often feature bold, brightly-colored, geometric designs. The kites are mostly hexagonal or octagonal and use a cross in part of the structure. According to legend, a local Sunday school teacher inspired this fun tradition after they launched a kite that looked like Jesus to help the students understand the story of Christ.
If kites aren't your speed, visitors to the KiteFest can also enjoy a mix of codfish and dessert before heading to Easter services which are held in sunrise services on beaches across the island.
9
Creating Colorful Outdoor Carpets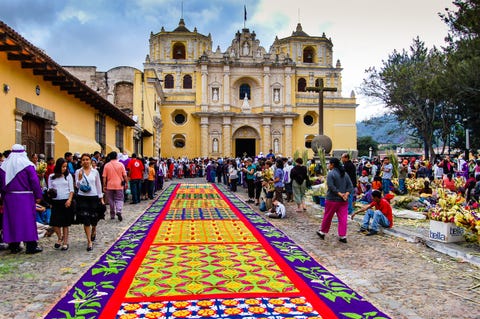 Lucy Brown - loca4motion
Ahead of Holy Week in southern Guatemala's Antigua, the town covers the streets in in colorful carpets in preparation for its Good Friday procession, according to Condé Nast Traveler.
The long carpets are made from flowers, colored sawdust, fruits, vegetables, and sand. Each carpet is often covered in scenes that are important to the artists who make them, ranging from religion to Mayan traditions to Guatemalan history. Some of these pieces can stretch as long as half a mile, and artists use stencils to assemble them quickly since they have just 24 hours to create their works of art the day before the Good Friday procession.

Advertisement - Continue Reading Below
10
Eating Chocolate Easter Bilbies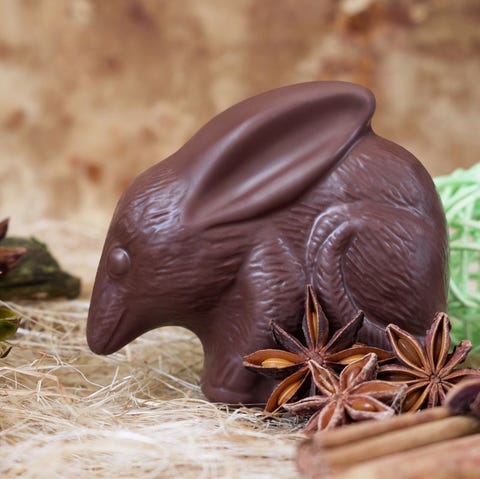 Getty Images
11
Gathering for Fireworks Displays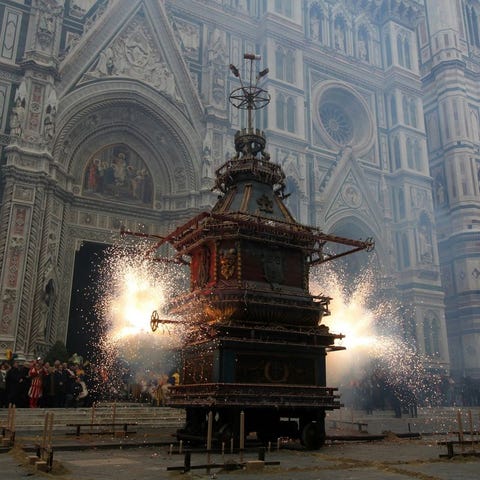 Getty Images
In Florence, Italy, locals celebrate a 350-year-old Easter tradition known as Scoppio del Carro, or "explosion of the cart" that dates all the way back to the First Crusade, according to Visit Florence.
An ornate cart is loaded with fireworks and then led through the streets by people in colorful 15th century costumes. Once the cart reaches the Duomo, the Archbishop of Florence lights a fuse from inside the church during Easter mass, sparking a lively fireworks display.
Some Mexican traditions also involve fireworks, like the ones that take place on Holy Saturday. The Judas Burning is celebrated by taking giant papier-mâché figures of Judas Iscariot and stuffing them with fireworks so that they can be blown up in local plazas.

12
Dressing in Costumes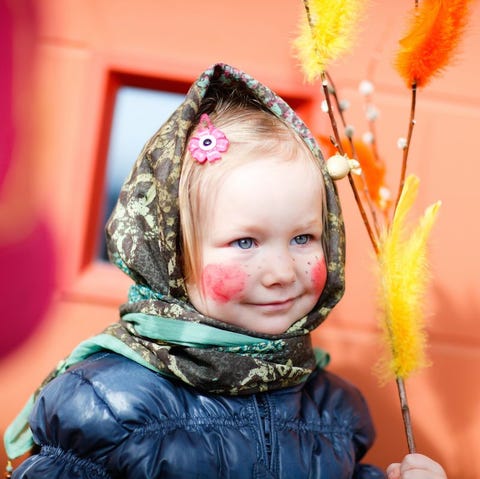 Getty Images
Dressing up as Easter witches is a fun Easter tradition that young children of Finland take part in. The kids wear colorful clothing with painted freckles on their cheeks, usually on Palm Sunday in eastern Finland and Holy Saturday in western Finland. The little witches go door-to-door with willow twigs decorated with colorful feathers and crepe paper. Then they recite a rhyming blessing meant to drive away evil spirits in exchange for a chocolate egg.

On Holy Thursday in the Medieval town of Verges, Spain, the traditional "dansa de la mort," or "death dance," is performed. Everyone dresses like skeletons as they reenact scenes from the Passion. The procession ends with frightening skeletons carrying boxes of ashes. The macabre dance begins at midnight and continues for three hours into the early morning.
In Prizzi, Sicily, "the Abballu de daivuli is a representation of devils from locals wearing terrifying masks of zinc and dressed in red robes," according to The Telegraph. Those dressed in costume pester as many "souls" as they can (which really means making them pay for drinks) before the afternoon when the Virgin Mary and the risen Christ save the day by sending the devils away with angels.

Advertisement - Continue Reading Below
13
Participating in the Great Easter Bunny Hunt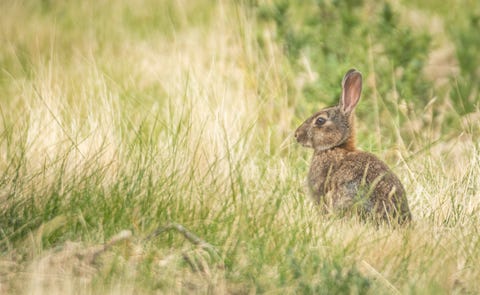 Jamie Fraser
Rabbits continue to find themselves unwelcomed around the world. Just like in Australia, New Zealand has also found a new way to get around their bad bunny problem. Unfortunately for the furry friends, it's not as tame as eating chocolate bilbies.
They hold a Great Easter Bunny Hunt in Alexandra, a town in the Central Otago district, to hunt their floppy-eared foes. The tradition has a specific reason behind it, though. The goal is to cut down the rabbit population, which is an introduced species and negatively affects the biodiversity of the environment. Rabbits are considered pests and plague farms in the region, according to The Guardian.

14
Eating a Giant Omelet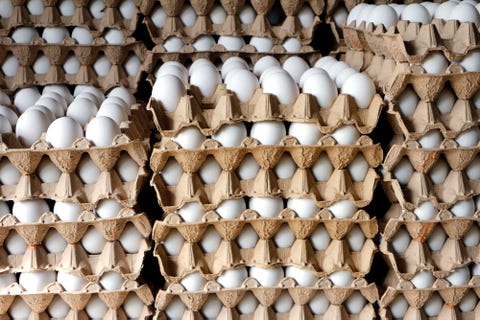 Jun Pinzon / EyeEm
Don't forget a fork and your appetite if you happen to be in the southern French town of Haux on Easter Monday. Each year, a giant omelet is served up in the town's main square, according to Atlas Obscura. And when we say giant, we mean giant: The omelet uses more than 15,000 eggs and feeds up to 1,000 people.
Legend has it, when Napoleon and his army were traveling through the south of France, they stopped in a small town and ate omelets. Napoleon liked his so much that he ordered the townspeople to gather their eggs and make a giant omelet for his army the next day.

15
Throwing Water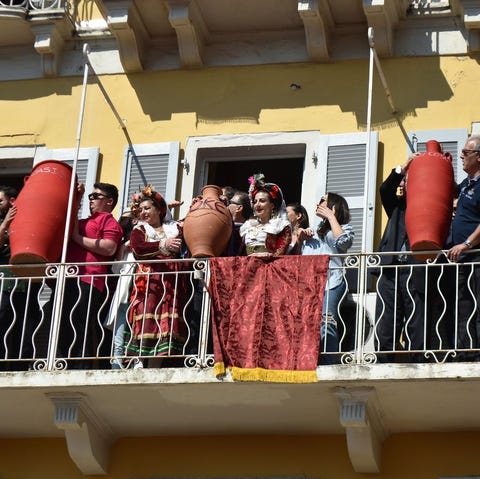 Getty Images
On the morning of Holy Saturday, the traditional "pot throwing" takes place on the Greek island of Corfu. People throw pots, pans, and other earthenware often filled with water out of their windows where they crash down to the street below. Some say the custom derives from the Venetians, who on New Year's Day used to throw out all of their old items. Others believe the throwing of the pots welcomes spring, symbolizing the new crops that will be gathered in the new pots.
In Poland, pouring water on one another is an Easter tradition called Śmigus-dyngus, a.k.a. Wet Monday. People gather on Easter Monday to try and drench each other with buckets of water, squirt guns, or anything they can get their hands on. Legend says girls who get soaked on Wet Monday will marry within the year.
"Sprinkling," a popular Easter tradition in Hungary, is observed on Easter Monday, also known as "Ducking Monday." Boys playfully sprinkle perfume or perfumed water on girls after getting their permission to do so and sometimes even ask for a kiss. People used to believe that water had a cleaning, healing, and fertility-inducing effect.

Advertisement - Continue Reading Below
16
Decorating Willow Branch Whips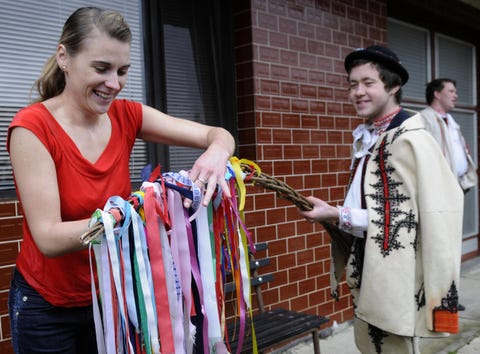 SAMUEL KUBANI
//
Getty Images
In a particularly unique tradition, Czech boys tie ribbons to willow branch whips on Easter Monday and gently "whip" girls to wish them good luck and health. The practice isn't well received by all, with many Czech women disagreeing with the enduring Easter custom. Unfortunately for them, many believe it's an important piece of folklore and culture.

17
Reading Crime Novels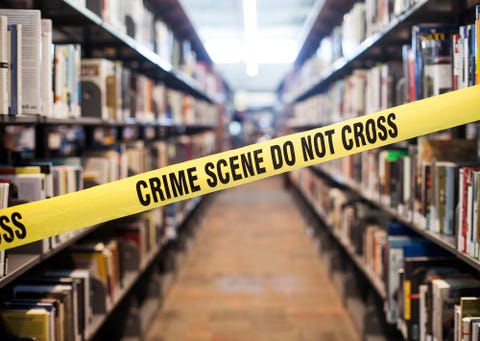 adamkaz
Those who live in Norway like to spend their Easter cozying up to a good book, according to Visit Norway. Many people use the holiday to hunker down in a cabin, ski, and read crime novels (or watch crime shows on television).
The tradition is said to have started in 1923 when a book publisher promoted its new crime novel on the front pages of newspapers. The ads resembled news so much that people didn't know it was a publicity stunt, so it received massive attention. The rest, they say, is history. It also helps that in Norway, there's plenty of time to relax and read, thanks to the length of the Easter holiday season.

18
Decorating Easter Trees With Tobacco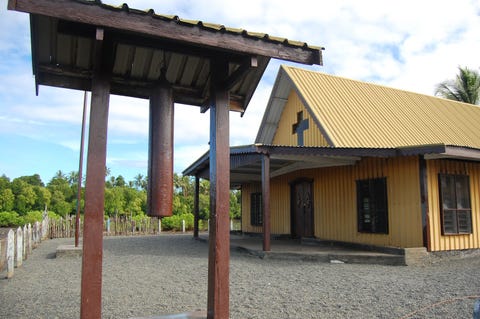 dane-mo
Advertisement - Continue Reading Below
19
Attending Reenactments of the Crucifixion
NurPhoto
The Philippines is a mostly Catholic country, so it makes sense that its inhabitants take Easter very seriously. Each year on Good Friday, a handful of people in San Pedro Cutud are nailed to crosses to honor Jesus' crucifixion. Though the Catholic Church has frowned upon these practices, it's an annual tradition that brings in thousands of tourists.
They're not the only ones, in Mexico, most of the more elaborate Semana Santa (Holy Week) celebrations include dramatic reenactments of the capture, trial, and crucifixion of Jesus. It's considered a great honor to take part in the productions. In more devout regions, such as Taxco, the reenactments include penitentes — individuals "who show their penitence and prove their faith by inflicting physical pain on their bodies by whipping themselves or carrying large religious objects on their backs," according to Journey Mexico, a local travel company.

20
Joining a Religious Procession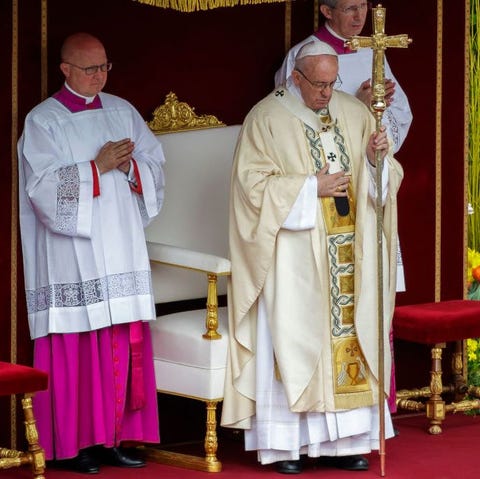 Getty Images
In Vatican City, the Pope commemorates the Way of the Cross, beginning at the Colosseum on Good Friday. People attending the procession hold candles and make their way around the amphitheater and up to Palatine Hill, stopping 14 times along the way to represent the Stations of the Cross.
Taking place in the city where it is believed Jesus was crucified, Christians in Jerusalem, Israel celebrate Good Friday by walking the same path Jesus did on the day he was nailed to the cross. Taking note of his pain that fateful day, some of those who participate carry a cross with them in remembrance. On Easter Sunday, many pilgrims attend a church service at Garden Tomb — the area it is believed Jesus was buried.
Some regions of Mexico prefer more low-key celebrations than the ones mentioned above, like a silent procession through town or visiting 12 churches in 12 days.


Olivia Muenter is a freelance writer and former fashion and beauty editor who writes about fashion, beauty, lifestyle, relationships, travel, home decor, and more for Woman's Day and beyond. Her work has appeared in Bustle, Refinery 29, Glamour, Byrdie, Apartment Therapy, Philadelphia Magazine, and more. When she's not reading (or talking about reading on Bad on Paper, the bookish podcast she co-hosts), you can find Olivia working on her first novel, curating the perfect playlist, or shopping online.

Contributing Writer
Lauren Wellbank is a freelance writer based in the Lehigh Valley region of Pennsylvania. Her work has appeared in The Washington Post, Huffington Post, Martha Stewart Living, and more. She has three small children, a husband, and an over eager dog at home. When she's not writing she likes to work in her garden with her family.