75 Family Summer Activities You and the Kids Can Do at Home or Outdoors
These fun (and free!) ideas will make boredom a thing of the past.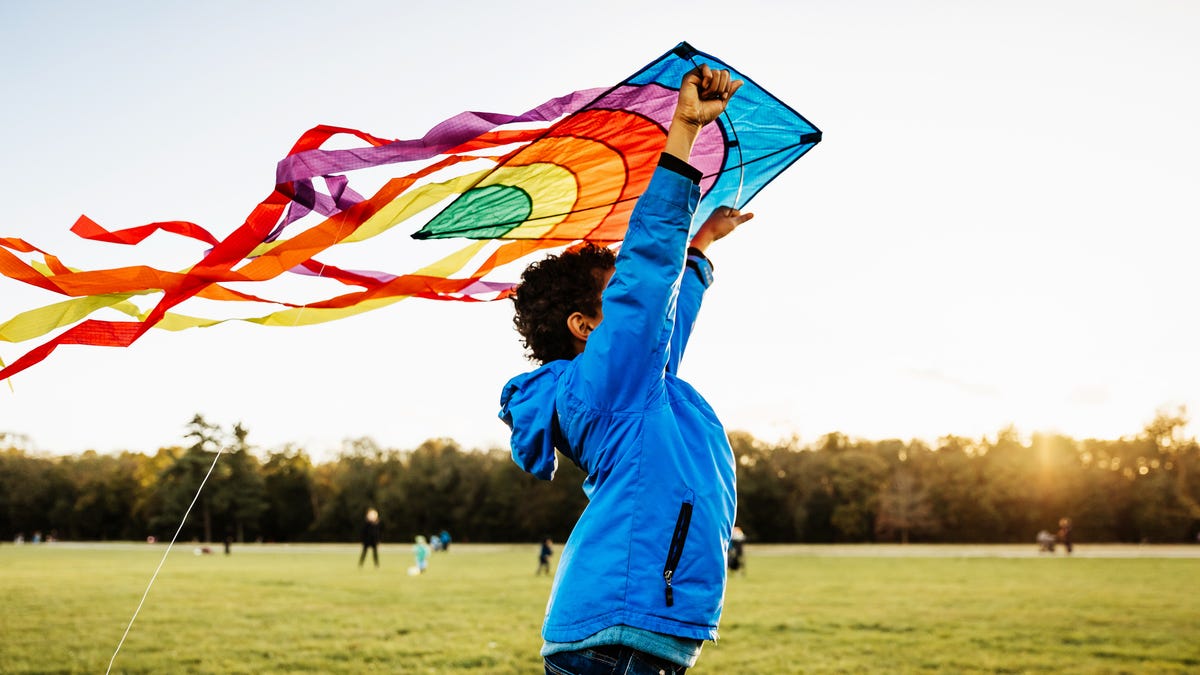 Sometimes the promise of summer vacation can be so exciting that you forget to make specific plans altogether. Just the idea of having three whole months of family time filled with summer recipes and outdoor activities can be enough to make you think that you don't need specific family summer activities on the calendar. But making sure to have at least one outing per week planned can be a great way to keep the entire family entertained, active, and most importantly, bonded. Plus, it'll avoid the dreaded, "I'm bored!" exclamation being heard throughout the house by week five or six of summer vacation. Whether your family is more into physical activities or they'd prefer to do a craft outdoors, finding fun activities for the summertime doesn't have to be difficult or expensive.
There are countless family games, outings, and activities for both kids and adults that will keep everyone entertained and happy. Just remember — when in doubt, go outside, get some fresh air, and go for a walk with the whole group. But if that's not an option, or you're looking for something more involved, here are 75 summer activity ideas for your family this summer.
1
Have a field day.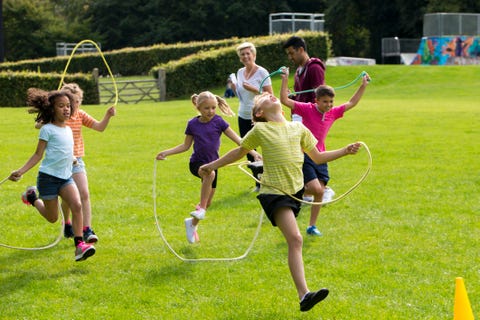 SolStock
//
Getty Images
Create a competition in your backyard using items you have at home. Make it a friendly competition with homemade ribbons as rewards, or just have some cool treats waiting for everyone when they're done competing.
2
Try a new sport together.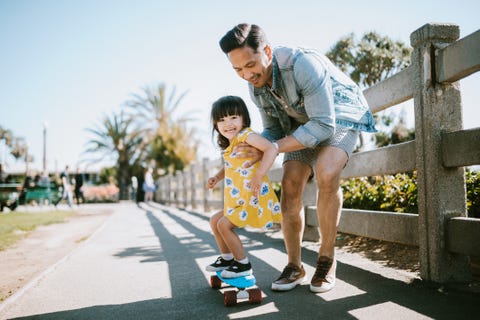 RyanJLane
//
Getty Images
Want to try skateboarding? Roller blades? Scooters? Try a new sport and activity together. Take a lesson or learn from easy YouTube videos. Just make sure everyone wears the right safety equipment!
3
Make a flower arrangement.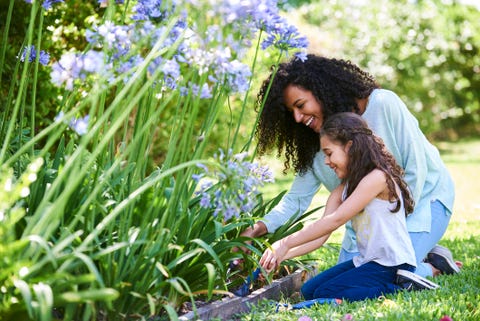 Mindful Media
//
Getty Images
Go out into your garden and pick some fresh flowers together, then arrange them outside. This combines a great physical activity in gardening with a more creative one in flower arranging, and it's fun for the whole family.
Advertisement - Continue Reading Below
4
Go kayaking.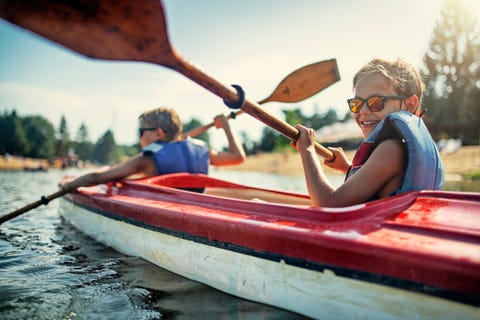 Imgorthand
//
Getty Images
Borrow or rent a kayak and explore a nearby body of water for some fun physical activity that the whole family will enjoy.
5
Have a tea party.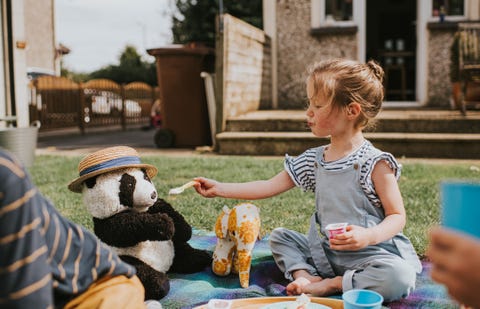 Catherine Falls Commercial
//
Getty Images
Set up some snacks, drinks, and guests (in the form of stuffed animals) and have a tea party picnic outdoors on a gorgeous summer day. For little ones, this will be particularly fun.
6
Go fishing.
Inti St Clair
//
Getty Images
Fishing can be a perfect activity if you live near a river, lake, or pond. It can be exciting for kids and adults alike and provides a great opportunity to appreciate the stillness and peace of nature.
Advertisement - Continue Reading Below
7
Go to the park.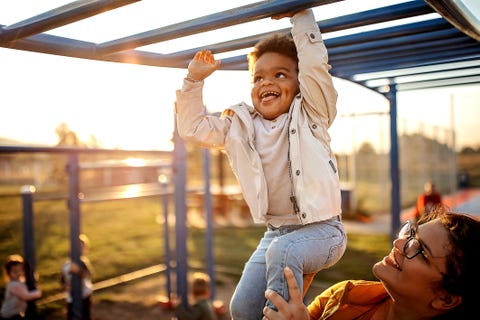 eclipse_images
//
Getty Images
One thing about summer activities is that anything mundane can seem extra special on the perfect summer day. Make a trip to the playground or the park feel special by bringing money for the ice cream truck, or a wireless speaker to play music.
8
Go to a fair.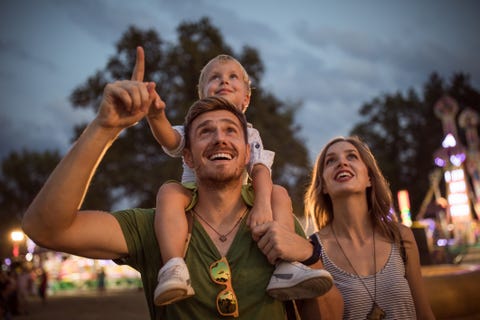 svetikd
//
Getty Images
A summer fair can be a perfect event for the family — there's food, rides, games, and lots to look at. Plus, you might be able to catch a concert or a fireworks show at the end of the night.
9
Have a watermelon party.
LOUISE BEAUMONT
//
Getty Images
Nothing says summer quite like watermelon. Host a watermelon party and feature a ton of watermelon recipes, like this watermelon salad recipe.
Advertisement - Continue Reading Below
10
Camp at home.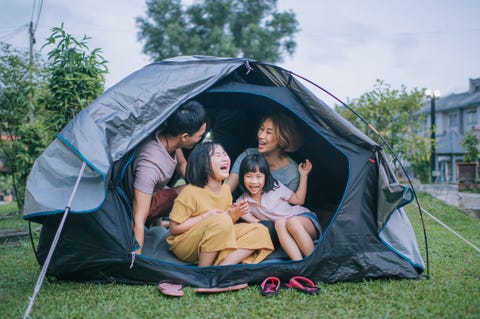 Edwin Tan
//
Getty Images
Pull out the tent, find the sleeping bags, and prepare the scary stories for the best sleepover ever. Camping at home can be fun, inexpensive, and will be something that the whole family will remember for years to come.
11
Go see some sunflowers.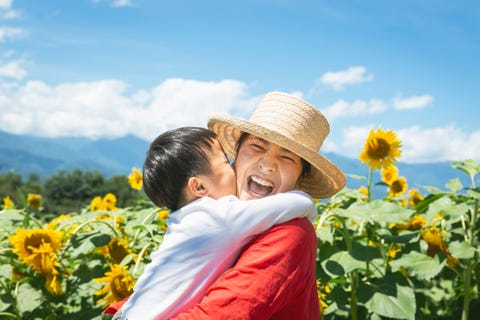 kohei_hara
//
Getty Images
Sunflowers are the happiest-looking flower around. If you're lucky enough to live near sunflower fields, go visit them with your family so everyone can marvel at the tall plants. This would also make for a great family photo op.
12
Go play mini golf.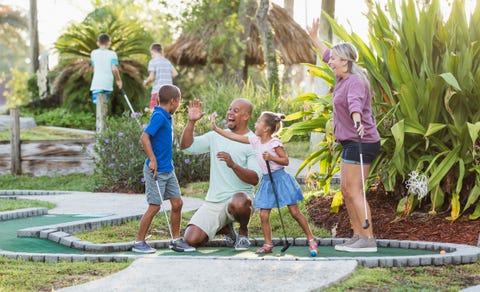 kali9
//
Getty Images
It might not be fancy, but it sure is fun. Bring the family out for a game of mini golf on a Friday night and follow it up with grilling dinner outside or just picking up some pizza — winner gets to choose the toppings!
Advertisement - Continue Reading Below
13
Install a rope swing.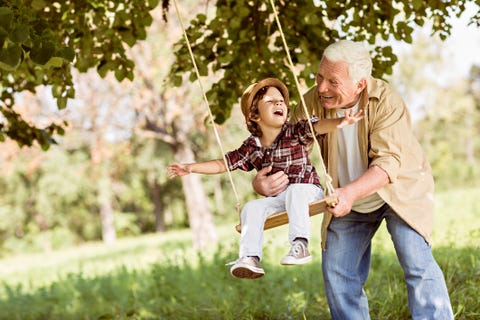 Geber86
//
Getty Images
There's something magical about a rope swing hanging from a tree limb. Install one this summer and make a day of it with the whole family, from buying the necessary tools and materials to the first inaugural rides on the swing.
14
Build a sandbox.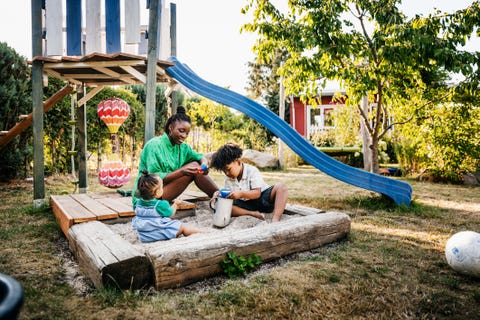 Tom Werner
//
Getty Images
If you have toddlers or younger children in your house, a fun activity could be to build a sandbox. You could explore the yard for things like sticks and shovels to add to the sandbox, and when it's all done you'll have something that can provide entertainment for the rest of the summer.
15
Play a game of HORSE.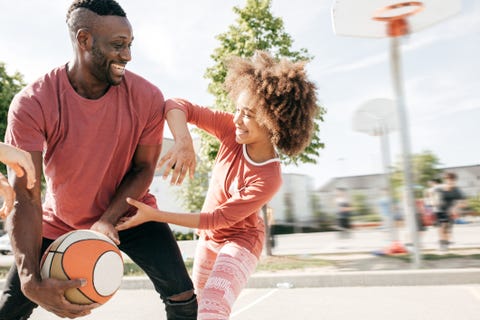 kate_sept2004
//
Getty Images
A friendly game of horse is fun, competitive, but doesn't run the risk of anyone getting hurt or overheated, either. Plus, it's a great way to practice your form if you have any future basketball players in the family.
Advertisement - Continue Reading Below
16
Stargaze in your backyard.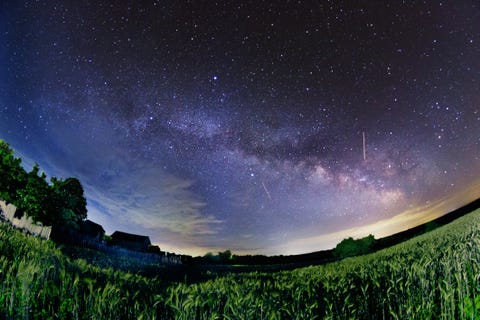 PetreaIonut
//
Getty Images
Lie on the grass or make your kiddie pool work overtime by filling it with pillows and blankets, and host your first family stargazing night.
17
Host an outdoor relay race.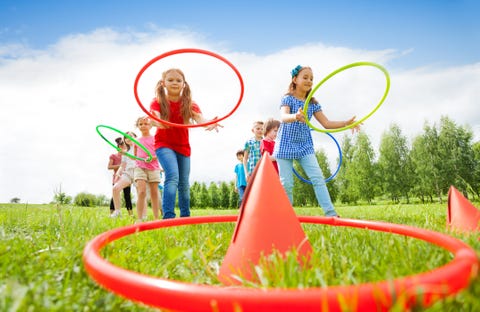 SerrNovik
//
Getty Images
Who needs the summer Olympics when you can come up with your own summer games at home? Round up some supplies around the home like clothes hampers, pool noodles, and hula hoops, and turn your backyard into the best summer event it's ever seen.
18
Mix up some fun summer cocktails and mocktails.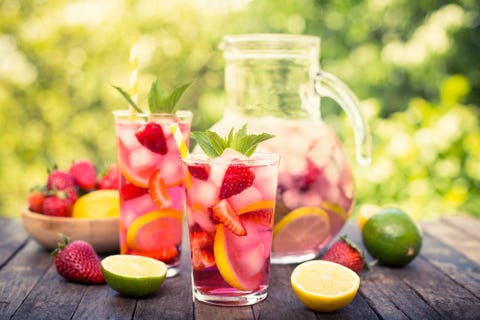 pilipphoto
//
Getty Images
Advertisement - Continue Reading Below
19
Have a blind taste test.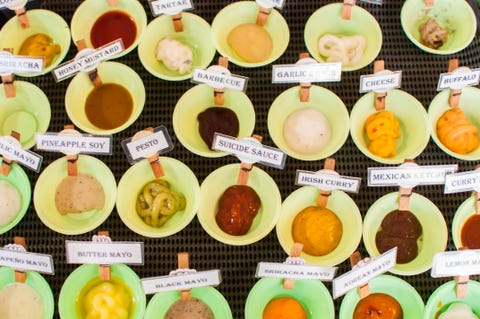 Karl Tapales
//
Getty Images
Think you can pick out your favorite foods in a massive line up? Put it to the test. Round up the family and your favorite desserts, drinks, or condiments, get a blindfold and see if you can properly identity some summer treats without looking. No peeking!
20
Host a potluck.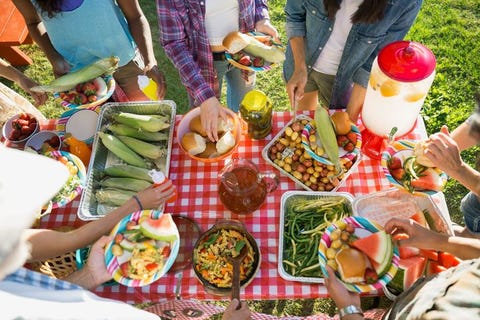 getty images
Gather a group of friends and family in your backyard or a local park and ask them to each bring something different to the dinner table for a fun, festive afternoon.
Updates Editor
Elizabeth Berry (she/her) is the Updates Editor at the Good Housekeeping Institute where she optimizes lifestyle content across verticals. Prior to this role, she was an Editorial Assistant for Woman's Day where she covered everything from gift guides to recipes. She also has experience fact checking commerce articles and holds a B.A. in English and Italian Studies from Connecticut College.

Olivia Muenter is a freelance writer and former fashion and beauty editor who writes about fashion, beauty, lifestyle, relationships, travel, home decor, and more for Woman's Day and beyond. Her work has appeared in Bustle, Refinery 29, Glamour, Byrdie, Apartment Therapy, Philadelphia Magazine, and more. When she's not reading (or talking about reading on Bad on Paper, the bookish podcast she co-hosts), you can find Olivia working on her first novel, curating the perfect playlist, or shopping online.