How To Support Workers of Color During Covid-19 (and Beyond)
Inequality still exists in the workplace. Here's how you can help support your coworkers of color.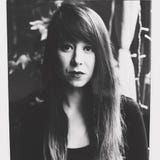 By Danielle Campoamor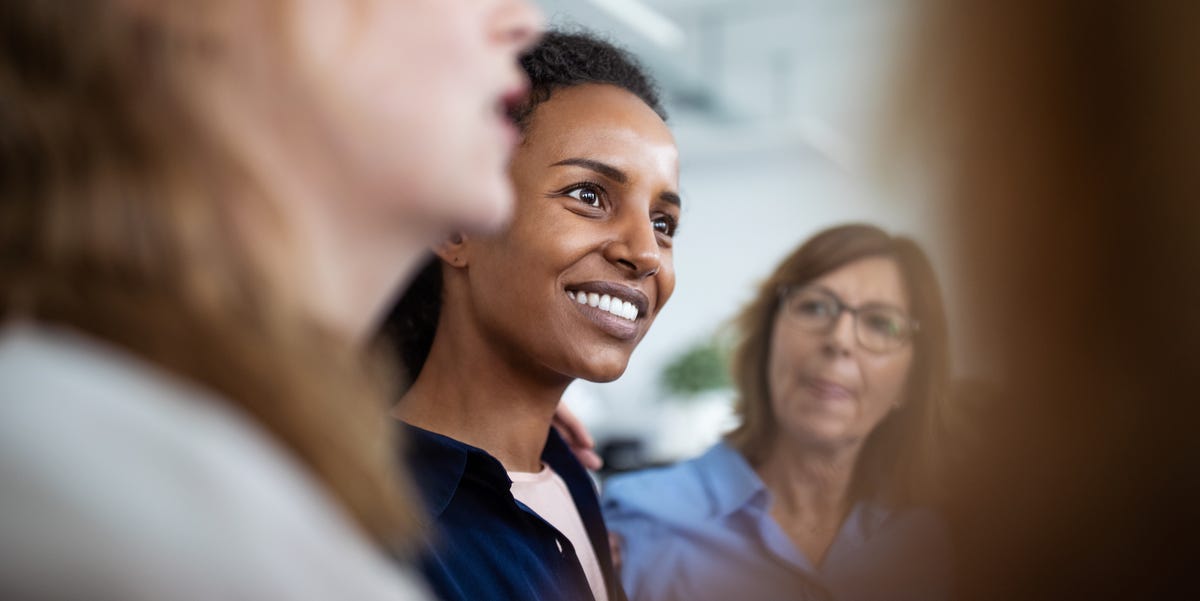 LUIS ALVAREZ
//
Getty Images
In the wake of the largest civil rights movement in U.S. history, non-Black people have been looking inward, taking stock of their unconscious biases, and finding ways to not only promote and celebrate inclusivity and diversity but to be actively anti-racist in the quest for true equality. Whether it's listening to podcasts about race, donating to anti-racist organizations, learning more about white privilege, or diversifying the media you consume by reading books by Black authors and watching shows and films based on Black characters, there's a myriad of ways you can work to change a historically racist and white supremacist system into one that benefits everyone. But one way that's especially important now is supporting workers of color, and making the workplace a more fair and equitable place.
Currently, Black women are paid 38 percent less than white men and 21 percent less than white women. One 2018 survey found that for every 100 white men promoted, only 60 Black women are. The same survey found that 41 percent of Black women say they never have a significant interaction with a superior, and 40 percent of Black women have their judgments questioned in areas of expertise. And in December of 2020, as a result of the ongoing Covid-19 pandemic, 140,000 jobs were lost — all held by Black and Latina women.
From sharing your salary with co-workers to donating to organizations that provide work training and other areas of support to Black and brown workers, there's always something you can do to stand with and support workers of color during Covid-19 and beyond. Here's a start:
1
Share your salary with your coworkers.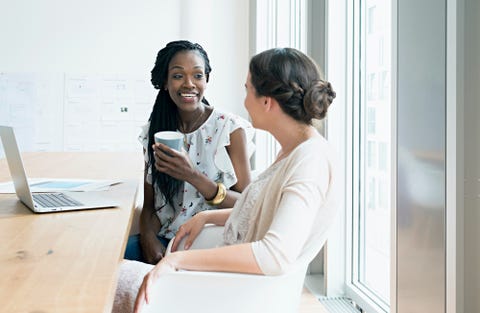 Joos Mind
//
Getty Images
Experts believe that employees discussing their salaries with one another can combat pay inequity, as reported by The New York Times. And due to the 1935 National Labor Relations Act, it's illegal for private-sector employers to keep their employees from discussing their salaries.
If a coworker of color is preparing to ask for a raise or discuss their compensation, share your salary and help them be better prepared to demand what they deserve.
2
Sponsor a business-focused online community membership.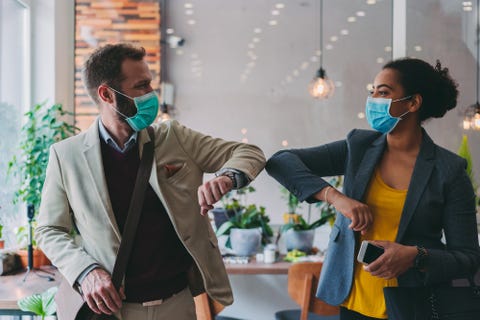 martin-dm
//
Getty Images
There are a number of online communities that provide networking opportunities and other support systems to entrepreneurs, business-owners, and corporate workers. For example, HeyMama, the largest and fastest growing online community of entrepreneurial and working moms, has partnered with Skip Hop, a global lifestyle brand dedicated to creating innovative products for parents, babies, and kids, to create the inaugural HeyMama Membership Grant Program.
Via the program, Skip Hop is sponsoring 100 year-long HeyMama memberships for working moms of color. "Our partnership with HeyMama underscores our company's commitment to helping working moms who need an extra boost of support, especially during this unprecedented time," Lauren DeFeo Duchene, General Manager of Skip Hop, said via a press release. "We're sponsoring 100 grant memberships for moms and women of color so they can find and build supportive groups to not only level up their own parenting, but make even more of a difference in their communities."
3
Donate to organizations working to end the wage gap.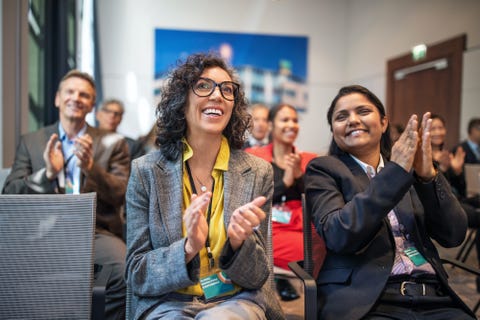 LUIS ALVAREZ
//
Getty Images
Advertisement - Continue Reading Below
4
Don't be afraid to talk about race with your coworkers.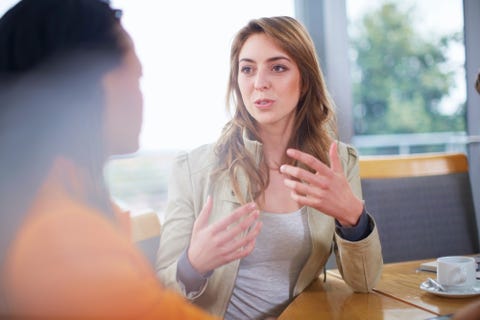 Westend61
//
Getty Images
5
Listen when your non-white coworkers talk to you.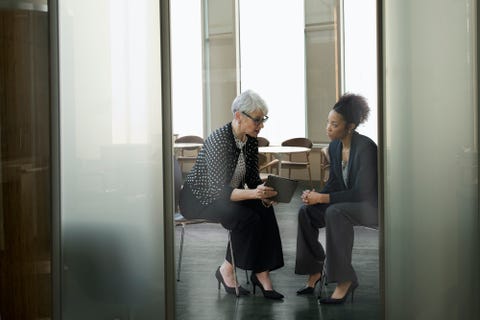 Jose Luis Pelaez Inc/Blend Images
//
Getty Images
If a coworker of color says they feel they're being discriminated against, are being harassed, or simply feel as if they're being silenced or overlooked: listen to them. Believe them. Let them know that you're someone who will support them and stand behind them. Help them go through the proper channels in order to stop the discrimination or inequity from continuing.

In order to create a more equitable workplace, everyone's voices must be heard. That means everyone has to also listen.
6
Donate to organizations dedicated to protecting undocumented workers' rights.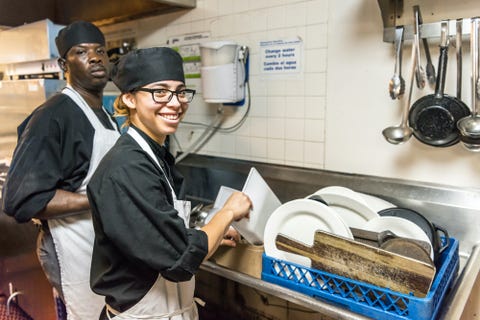 Juanmonino
//
Getty Images
Advertisement - Continue Reading Below
7
Become a mentor or sponsor.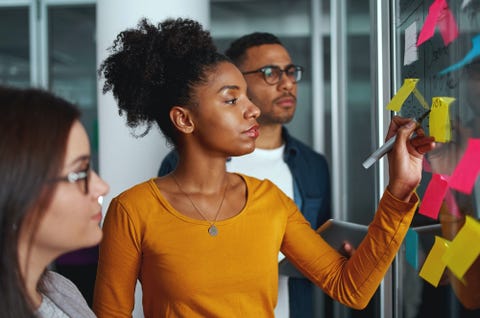 CHRIS JOUBERT
//
Getty Images
Carla Harris, a vice chair, managing director and senior client adviser at Morgan Stanley, described a work "sponsor" as someone who is "spending their valuable political and social capital on you" during a 2019 TED talk. If you have decision-making power, credibility, and influence, you can leverage that power in order to speak up for and help advance the career of a Black or brown colleague.

And after analyzing 43 studies, researchers found that employees who have mentors receive higher compensation, a greater number of promotions, and are more satisfied with their careers than those who do not have mentors.
If you can, sponsor or mentor a Black coworker and/or coworker of color, and help ensure that there's equal opportunity in the workplace.
8
Dedicate yourself to your continued education on race and anti-racism.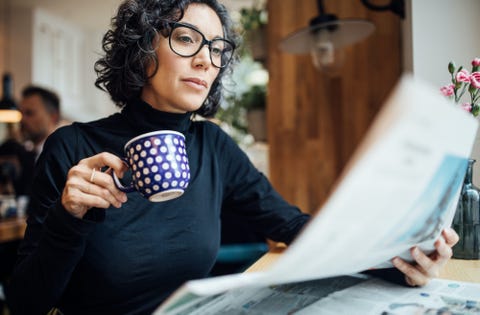 LUIS ALVAREZ
//
Getty Images
9
Advocate for and facilitate for constant inclusivity, diversity, and anti-racist training.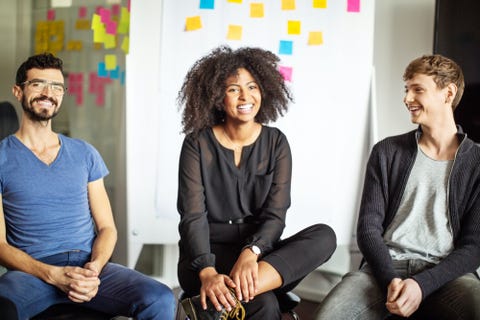 Luis Alvarez
//
Getty Images
If your workplace does not already facilitate inclusivity training, racial bias training, diversity training, and/or anti-racist training, advocate for them and, if possible, offer to help facilitate them. Studies have shown that these trainings are most successful when they're offered constantly and are incorporated year-round with other inclusivity and equity initiatives.
Advertisement - Continue Reading Below
10
Refuse to stay silent.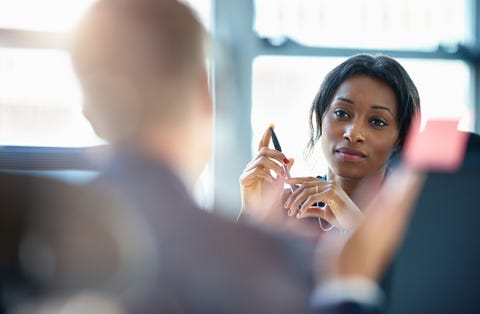 //
Getty Images
It's been said before, and it's sure to be said again: "If you see something, say something." Silence is complicity, so if you see that a Black coworker's ideas are constantly being taken by a white coworker: say something. If you notice a non-Black coworker is guilty of racial micro-aggressions: say something to that coworker.
Being an ally requires more than just a solidarity post or the use of a trending hashtag. It requires action.
__________________________________________________________
Subscribe to Woman's Day today and get 73% off your first 12 issues. And while you're at it, sign up for our FREE newsletter for even more of the Woman's Day content you want.

Danielle Campoamor is an award-winning freelance writer covering mental health, reproductive justice, abortion access, maternal mental health, politics, and feminist issues. She has been published in The New York Times, Washington Post, CNN, NBC, Vogue, Harper's Bazaar, Marie Claire, InStyle, Playboy, Teen Vogue, Glamour, The Daily Beast, and more.