50 Romantic Dinners the Two of You Can Cook at Home
Prepare one of these easy recipes, open a bottle of red, and light a candle to set the mood.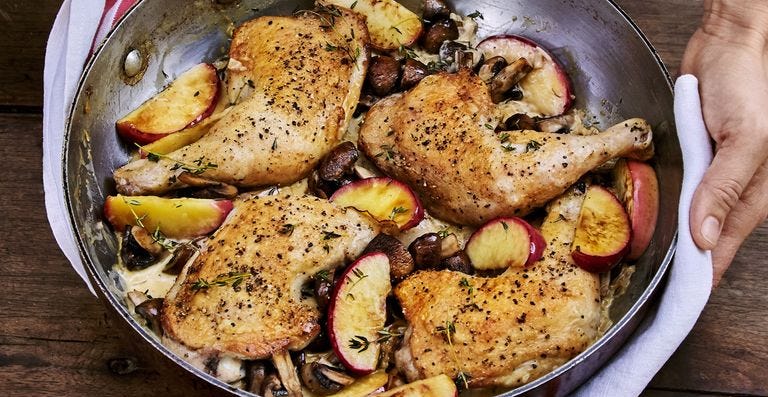 ANTONIS ACHILLEOS
There can be a lot of pressure to design the perfect Valentine's Day dinner menu for you and your partner. From heart-shaped dips to multi-layer cakes to extravagant seafood dishes, there is no shortage of ways to impress the one you love most over a candlelit dinner. And while you can certainly dine out on February 14, there is something special about preparing a romantic dinner at home while your favorite love songs play in the background and you sip from your glass of red wine. The following romantic dinner ideas cater to a variety of dietary preferences and all make for a delicious meal, while ensuring you spend most of your time sitting at the table rather than standing over the stove.
Cooking a meal together is a fun activity to do on Valentine's Day, especially if you are looking for an easy date night idea. You also don't have to go through the stress of finding a restaurant you'll both enjoy. Romantic dinners in the comfort of your home up the cozy atmosphere while still making the evening extra special, whether on Valentine's Day or if you're celebrating your anniversary. We've compiled dinner recipes for meat lovers, seafood lovers, pasta lovers, and those who follow vegetarian, plant-based, or vegan diets. At the end of the day, though, your partner will be impressed by anything you cook for (or with) them.
1
Ravioli with Creamy Mushrooms and Asparagus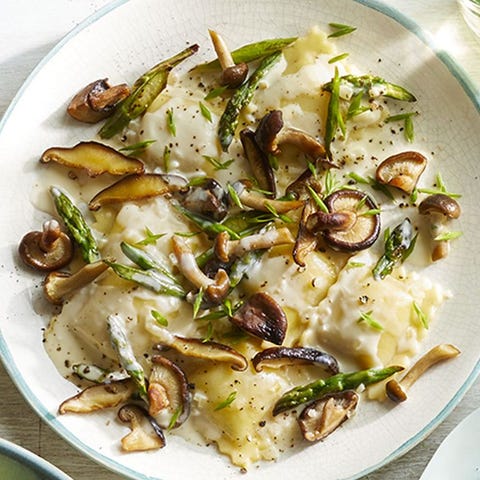 Con Poulos
This recipe combines the ease of store-bought ravioli with all your favorite veggies to spruce things up.
2
Pepperoni Pizza Dip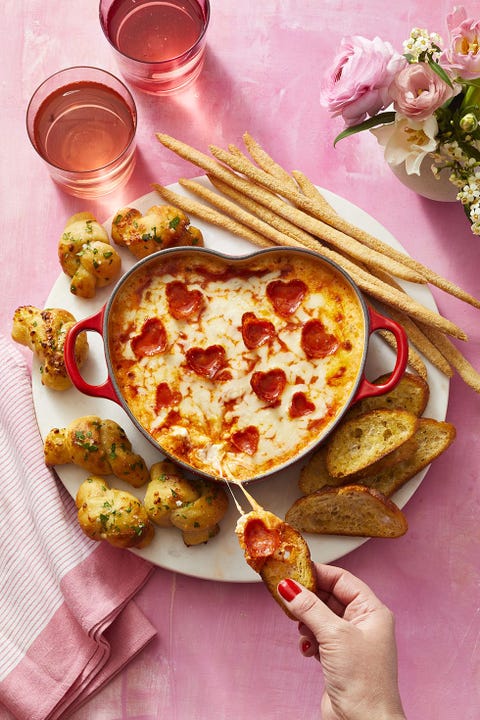 Mike Garten
Bonus points if you have a heart-shaped, broiler-safe pot to serve in. But don't worry, the adorable pepperoni pieces will provide just as much wow factor without.
Get the Pepperoni Pizza Dip recipe.
3
Red Citrus Salad with Berries, Pears and Pomegranates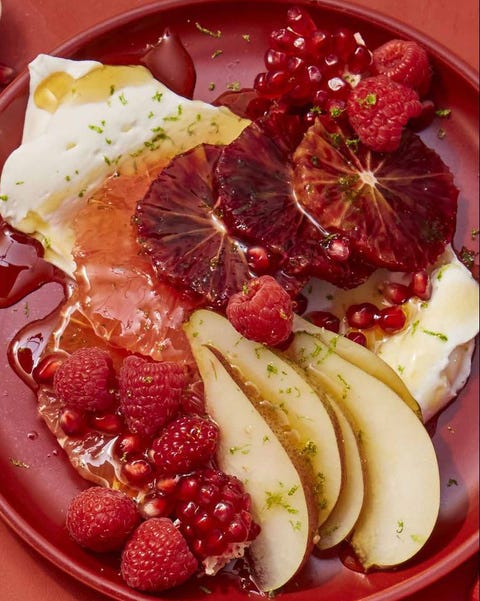 MIKE GARTEN
Advertisement - Continue Reading Below
4
Spiced Tomato Soup with Flatbread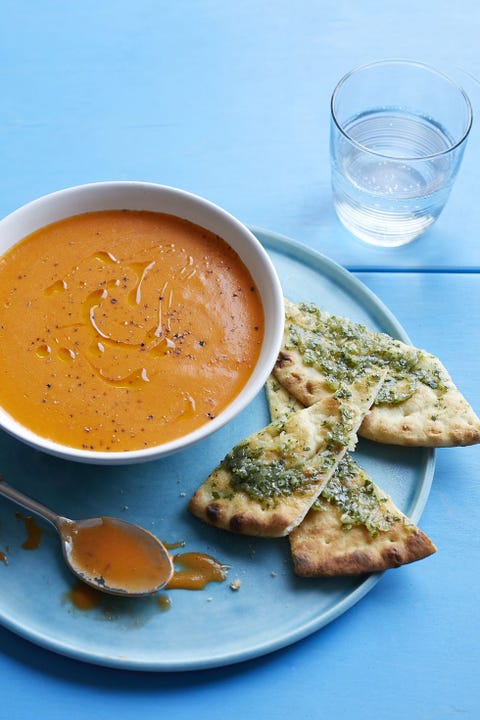 CON POULOS
A warming bowl of soup is the perfect dinner to prepare on a cold Valentine's Day evening. Cut the flatbread into heart shapes for an adorable touch.
5
Roasted Shrimp and Peppers with Creamy Rice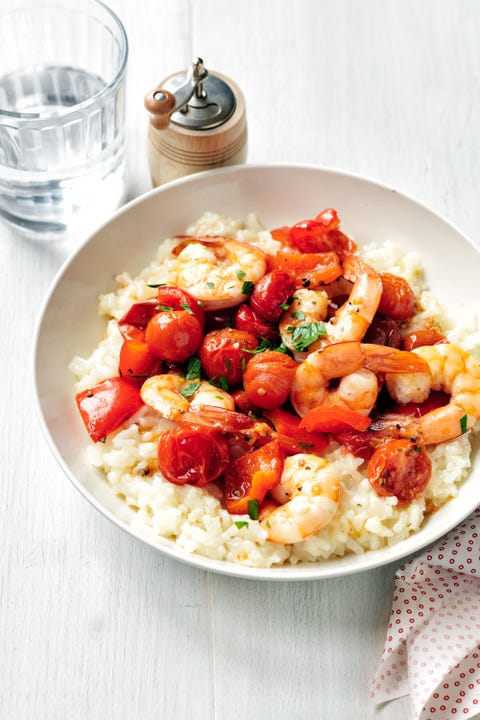 Chris Court
This easy weeknight dinner will look just as impressive as your order at your favorite seafood restaurant. Garlicky shrimp combine with fluffy arborio rice for a delicious combo you won't be able to stop spooning into your mouth.
6
Thai-Style Peanut Chicken Wraps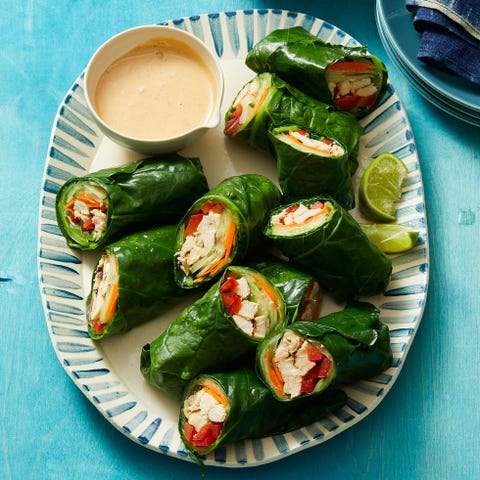 Mike Garten
For a romantic dinner that doubles as a date-night activity, prep the insides of these wraps and then roll them up together with your partner.
Advertisement - Continue Reading Below
7
Thai Beef and Vegetable Curry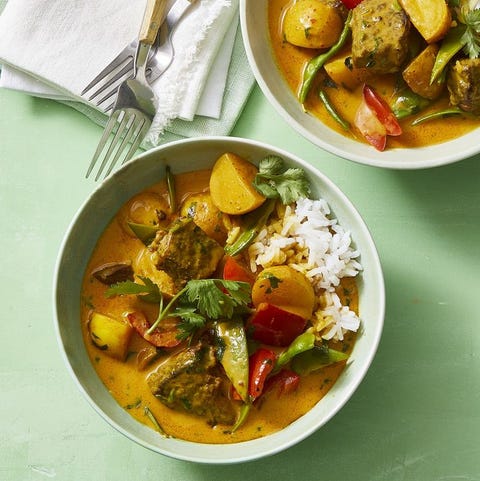 Mike Garten
8
Salmon with Creamy Feta Cucumbers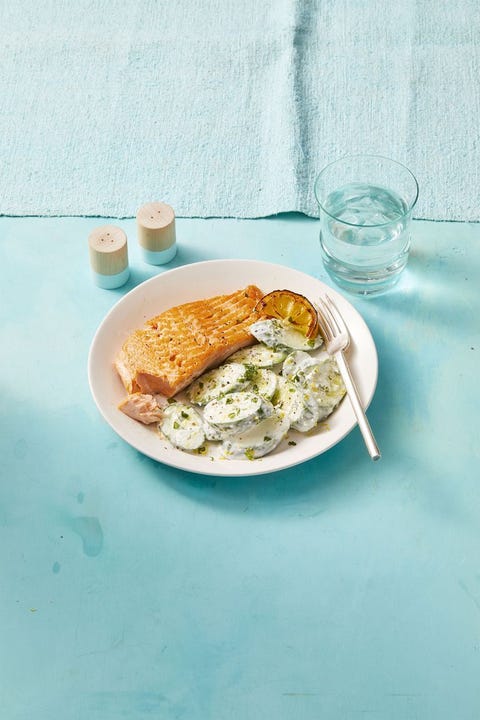 Mike Garten
This crispy salmon will be ready in only 20 minutes, and the creamy cucumbers are an unusual side that bring a different flavor profile to the dish.
9
Spring Veggie Pasta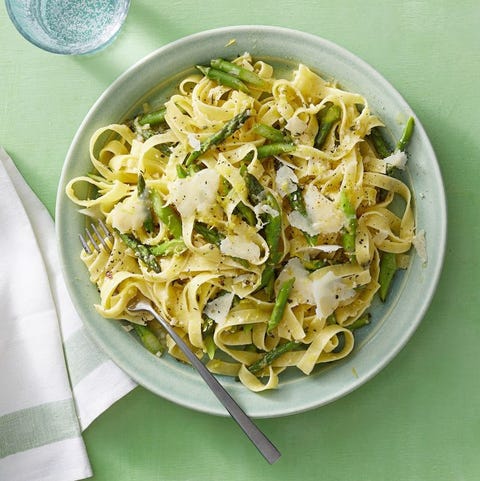 Danielle Occhiogrosso Daly
This vegetarian recipe gets tons of bold favors from leeks, lemon, and garlic, plus it's a light dish that won't make you feel sluggish and full after dinner.
Get the Spring Veggie Pasta recipe.
Advertisement - Continue Reading Below
10
Mushroom and Arugula Salad Pizza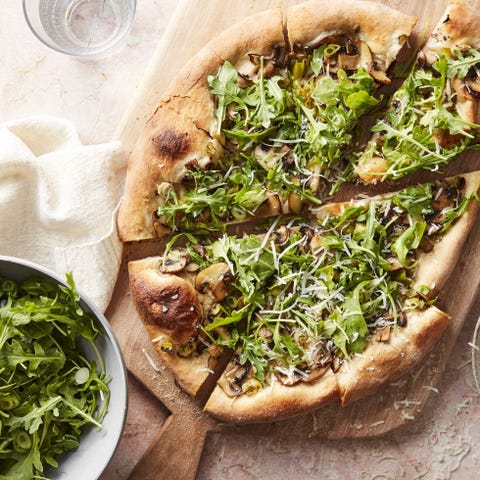 Christopher Testani
If you love pizza but want something lighter and brighter than the usual red-sauce recipe, this arugula-topped recipe will give you all the deliciousness of pizza with a newfound freshness.
11
Whole-Wheat Spaghetti with Grilled Asparagus and Scallions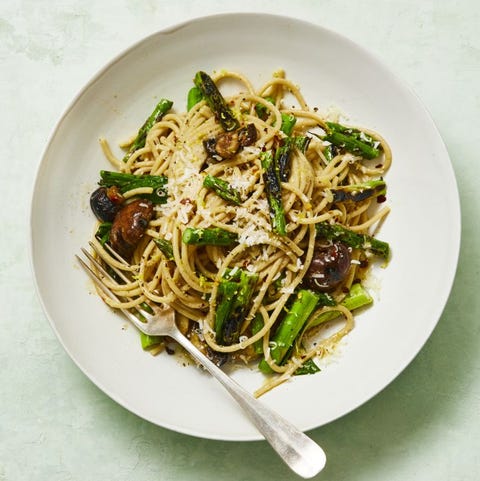 Mike Garten
12
Lemony Salmon with Pesto Cauliflower Mash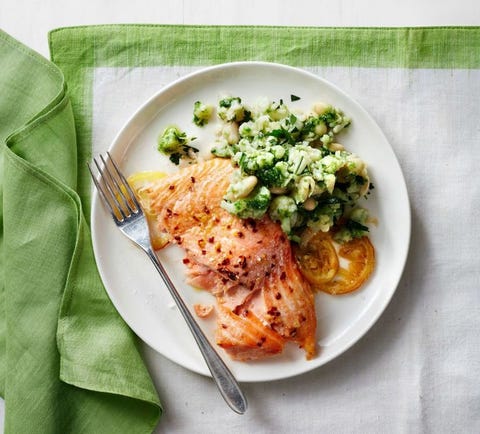 Christopher Testani
This simple salmon is accompanied by a flavorful cauliflower mash that has tons of hidden protein from white beans.
Advertisement - Continue Reading Below
13
Lemon-Thyme Chicken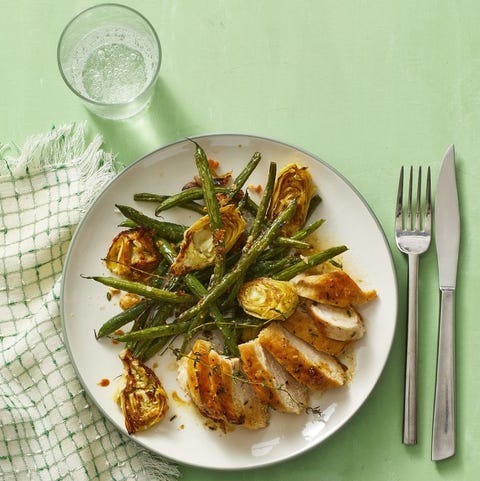 Mike Garten
This simple but flavorful chicken recipe will please even the pickiest eaters, and it's a recipe you'll return to over and over.
Get the Lemon-Thyme Chicken recipe.

14
Thyme- and Sage-Roasted Turkey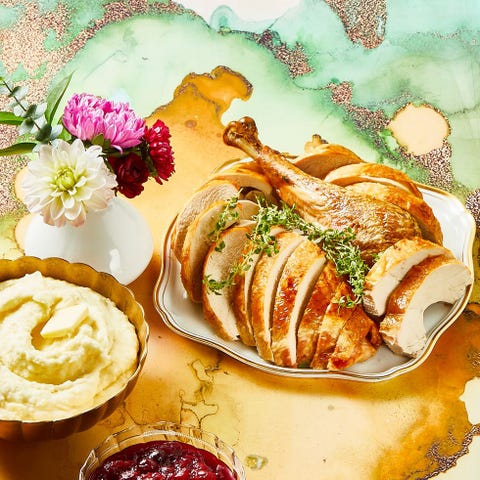 Mike Garten
Making a whole turkey is a time-intensive but surefire way to make an impression on a romantic evening. This recipe is full of woodsy flavors from thyme and sage, and you can count on having leftovers for a few days.
15
Ham and Brie Quesadilla
Danielle Occhiogrosso Daly
Making finger food for date night is a fun way to mix things up, and this recipe features the accessibility and ease of a quesadilla with a fancy touch from the brie.
Get the Ham and Brie Quesadilla recipe.
Advertisement - Continue Reading Below
16
Seared Lamb with Mustard Potatoes and Green Beans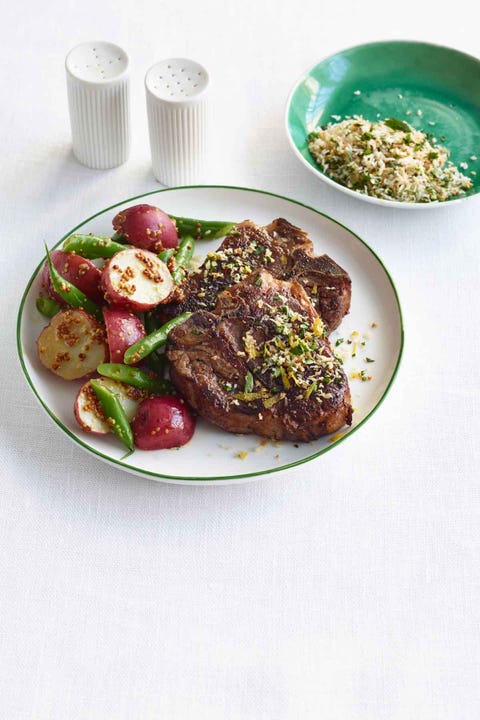 Steve Giralt
17
Summer Squash, Mint, and Pecorino Pasta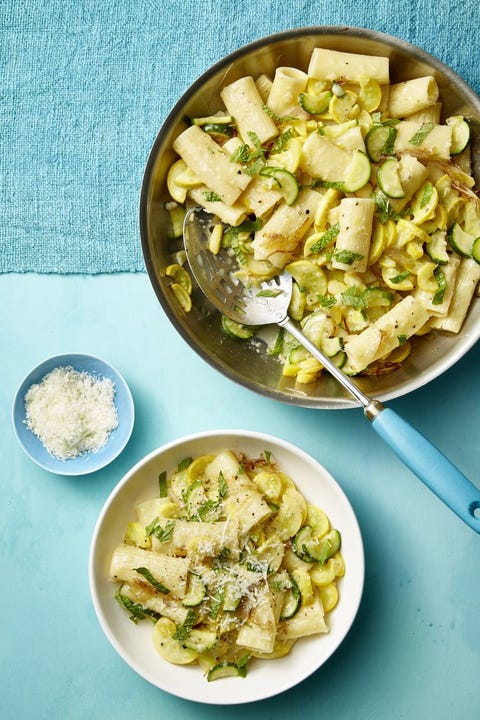 DANIELLE OCCHIOGROSSO DALY
If you're looking to add something fresh to your relationship, this summer squash, mint, and pecorino pasta is definitely it.

18
Seared Pork Chops with Cherries and Spinach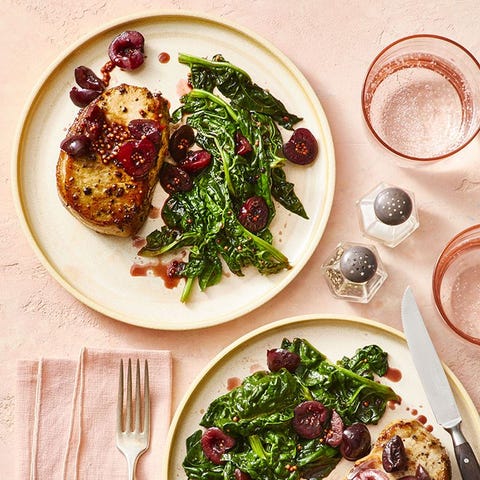 MIKE GARTEN
Anyone can cook a pork chop, but this sophisticated dish with a fresh cherry sauce and tasty spinach will show them just how much you care.
Advertisement - Continue Reading Below
19
Vegetable and Three-Cheese Stuffed Shells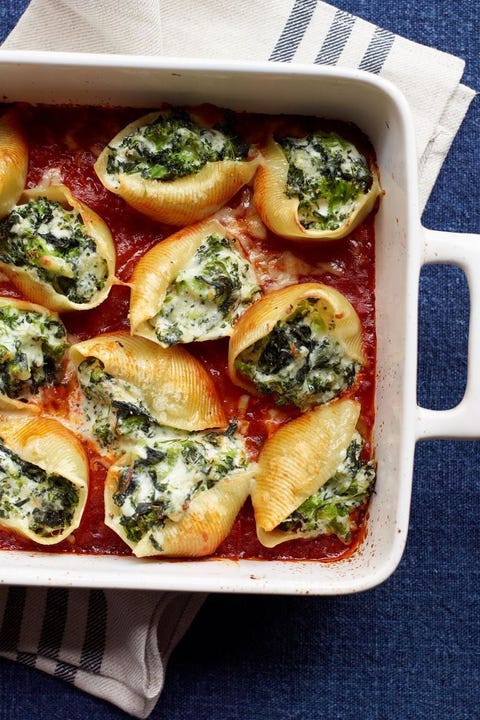 CON POULOS
You really can't go wrong with cheesy shells in a delicious homemade marinara sauce. Plus, there's broccoli and spinach in there so you can get your greens in, too.
20
Rigatoni with Chicken and Broccoli Bolognese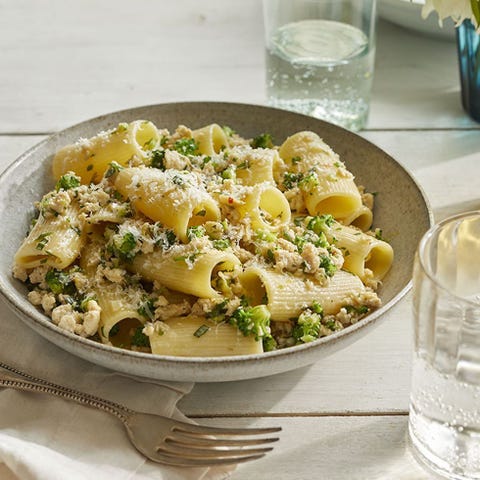 Con Poulos
Digital Editor
Jamie Kravitz (she/her) is the digital editor at Woman's Day, where she oversees the brand's digital platforms and covers holidays, food, and more. Before joining WD in 2021, she was a digital editor at the Rachael Ray Show. Jamie has over five years of experience writing relationship, entertainment, home, and gifting content for publications including The Knot, Martha Stewart Weddings, Insider, and Elite Daily. She graduated from Emerson College with a BFA in Writing, Literature and Publishing and lives in Brooklyn with her cats, Lumos and Linus.
Updates Editor
Elizabeth Berry (she/her) is the Updates Editor at the Good Housekeeping Institute where she optimizes lifestyle content across verticals. Prior to this role, she was an Editorial Assistant for Woman's Day where she covered everything from gift guides to recipes. She also has experience fact checking commerce articles and holds a B.A. in English and Italian Studies from Connecticut College.