32 Weight-Loss Secrets from Real Women Who Completely Transformed Their Bodies
Get inspired by real women who have lost major pounds.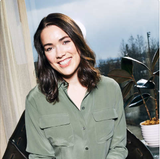 By Abigail L. Cuffey
Sometimes the hardest part of making a big change is getting motivated. Which is why we've found some seriously inspiring women who have lost between 84 and 206 pounds each. Plus, get more of our best weight loss and diet tips.
Advertisement - Continue Reading Below
1
Save These Ideas

Advertisement - Continue Reading Below
2
Laura Avon, 44, Wall Township, NJ and Susie Costello, 47, Lavalette, NJ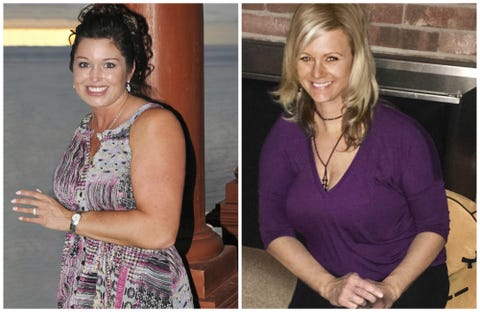 "I used to eat a lot of fast food, and I had no discipline with portions (I'd down a bag of potato chips while watching a movie)," Susie says. "My confidence was gone, and my energy was at an all-time low. One day in the spring of 2015, I looked in the mirror and said, 'I have to do something.'"
Advertisement - Continue Reading Below
3
Weight Loss: 30 and 20 Pounds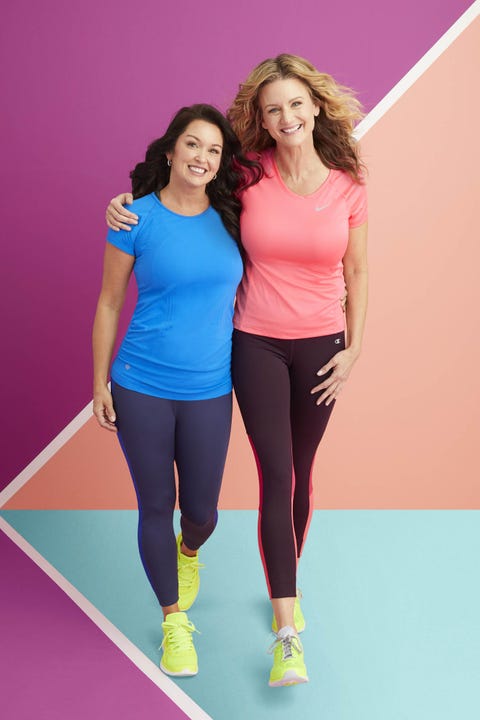 Ari Michelson
Top Tip: In addition to exercising and meal prepping together, these best friends are committed to being partners in health. "We call each other every Friday to discuss our weekend plans and how we're going to stay on track," Susie says. "We text each other inspirational quotes once a week, like 'Stay patient and trust your journey.'"
Advertisement - Continue Reading Below
4
Jane Dent, 62, Leonardtown, MD and Sarah Gallagher, 35, Leonardtown, MD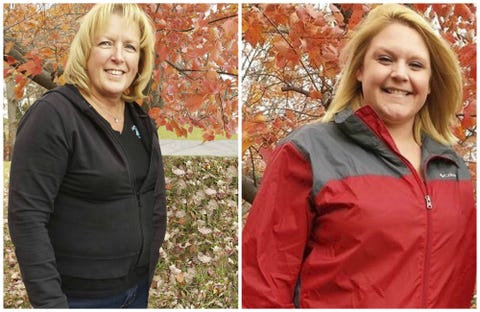 Committing to themselves and ditching the guilt helped this mother and daughter succeed. "My weight was up and down for 10 years, and I could never find a permanent solution," Sarah says. "It felt like a roller coaster."
Advertisement - Continue Reading Below
5
Weight Loss: 45 and 36 Pounds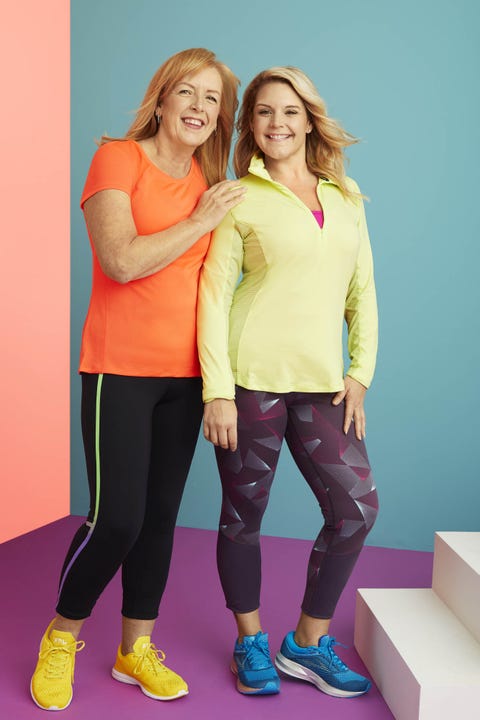 Ari Michelson
Top Tip: Move more to stress less. "I've learned to exercise instead of eating when I'm stressed," Sarah says. "I've started walking two to three miles outside two to three times a week. The fresh air instantly puts me in a good mood, and I think of it as time to unplug. Now I put exercise on my to-do list just like any task—it's about committing to myself. My mom bought a Fitbit and aims for 10,000 steps per day."
Advertisement - Continue Reading Below
6
Rosalyn Long, 41, Alpharetta, GA and Rhonda Howard, 36, Woodstock, GA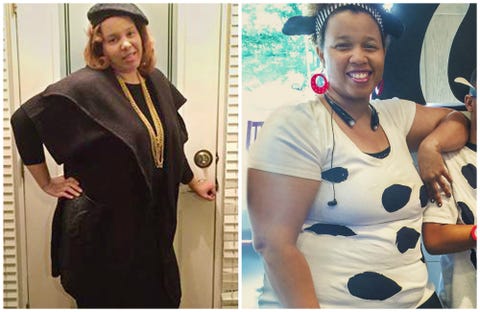 These sisters were inspired to make a change together. "One day in January 2016, I saw a picture of myself from a family gathering and thought, What has happened here? Rosalyn had steadily gained weight after our grandmother passed away in 2013, so we both came to the realization that it was time to change," Rhonda says. 
Advertisement - Continue Reading Below
7
Weight Loss: 55 and 65 Pounds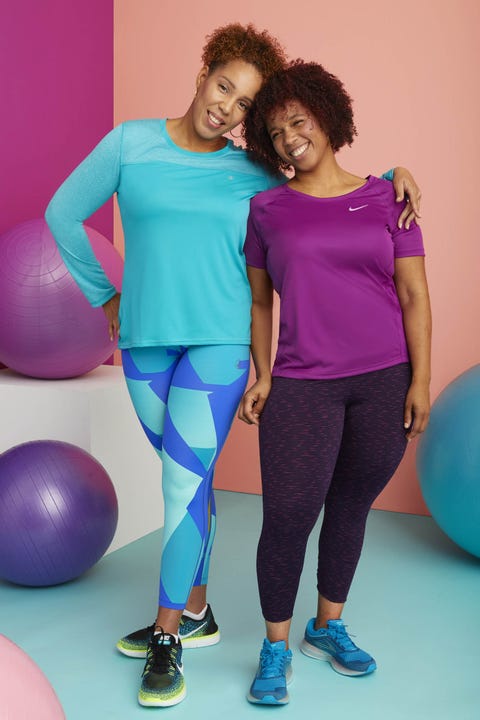 Ari Michelson
Top Tip: "We joined Life Time Fitness and enrolled in the gym's 60-Day Challenge, a competition that encouraged us to commit to healthy changes and slim down in 60 days," Rosalyn says. "We each lost about 10 pounds in the first challenge, so we signed up for another. We felt competitive against others, but always thought of ourselves as a team." 
Advertisement - Continue Reading Below
8
Kathryn Carney, 47, Atlanta, GA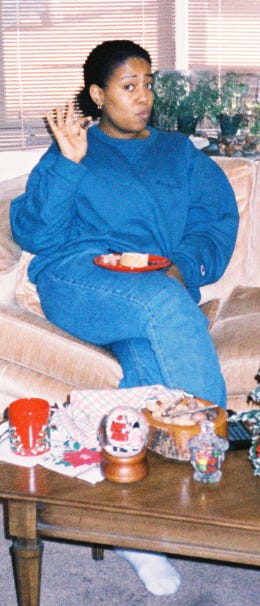 I ate five to nine servings of fruits and vegetables a day, cut out fried foods, and switched from eating refined carbohydrates like white bread to complex carbs like whole-wheat bread. I promised myself that after one year of living healthfully, I'd treat myself to fast-food fries (an old favorite), but I couldn't finish them. Now my cholesterol is in a healthy range, and I still walk 30 to 60 minutes four or five days a week.
Advertisement - Continue Reading Below
9
Weight Lost: 90 Pounds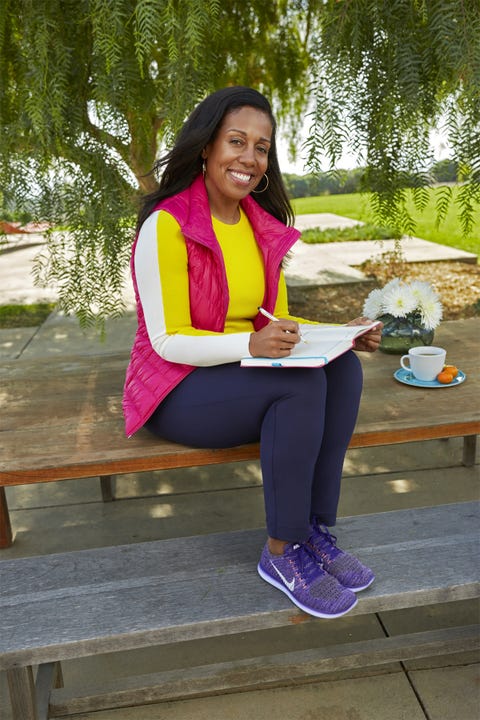 Top tip: Use a calendar. Every time I exercise, I write down my accomplishment. Once I see a streak visually on paper, I don't want to break it.
Advertisement - Continue Reading Below
10
Robin Strempek, 39, Crofton, MD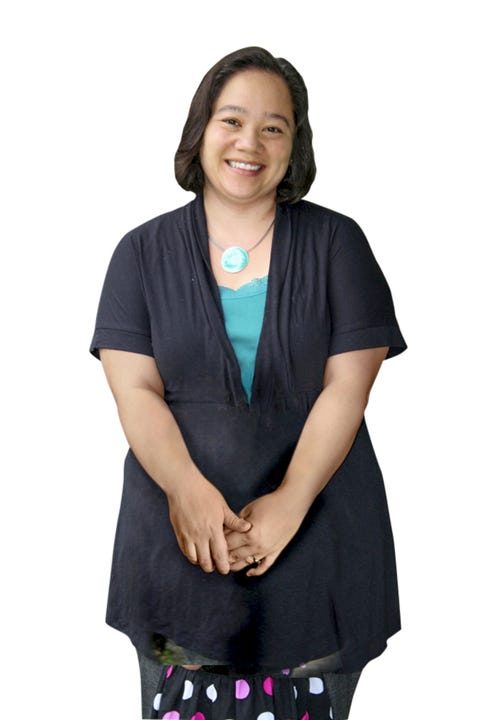 I wasn't athletic at all, but I knew I was able to walk, so I thought I'd try that for two weeks to see if I liked it. I went walking for three miles around my office building with friends on my lunch break and enjoyed it, so I kept at it. My legs got stronger and over time, I could keep up with the group. All of my blood work is now normal, and I have more energy for my 12-year-old daughter. The personality that I had inside has finally come out. I used to feel invisible, but now, when I put on my suit and heels, I think, I can command this room.
Advertisement - Continue Reading Below
11
Weight Lost: 100 Pounds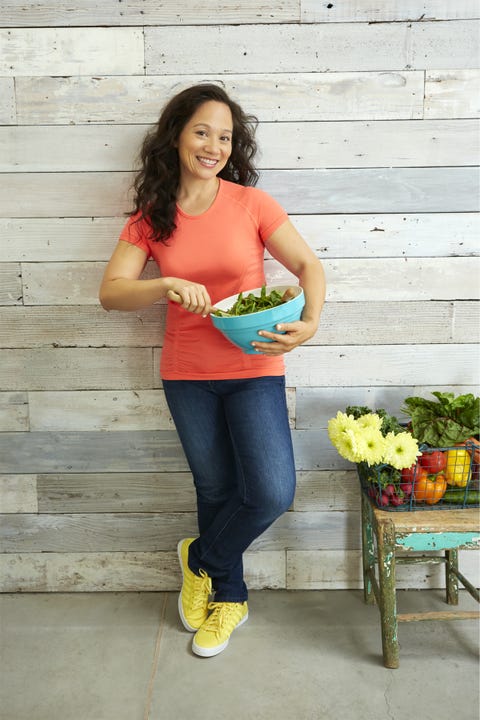 Top Tip: Focus on eating a healthy breakfast first. Instead of having a bagel or sugary cereal, I switched to oatmeal with lowfat milk and cinnamon and bananas, or two eggs and two egg whites with veggies. Gradually, I started feeling better and made other changes, like replacing two to three cans of soda a day with water. 
Advertisement - Continue Reading Below
12
Natalie Galyon, 42, Boulder, CO

Walking felt like the easiest change to make, so I started going out near my home for just 10 minutes a day on a local trail along a river. Being in nature was key. Gradually, I increased from 10 minutes to 2 hours a day and added hilly hikes on the weekends. While I strolled, I listened to podcasts and soaked up the scenery. My cholesterol and blood pressure are now in healthy ranges—without medication. It's wild how much I've changed, not just physically but emotionally too. I remember trying to hike when I was heavy—my knees hurt and I could barely breathe. I thought, I'll just look at nature; I don't have to walk in it. I can't believe the limited mindset I had. What was I thinking? I feel so much more confident and capable now.
Advertisement - Continue Reading Below
13
Weight Lost: 102 Pounds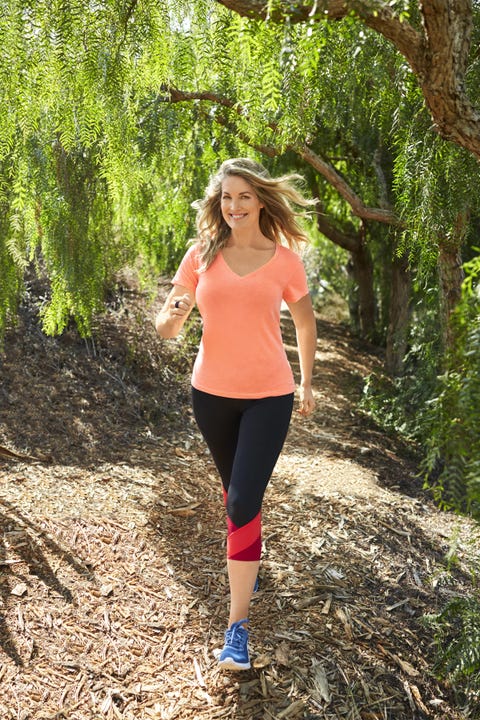 Top Tip: Tone down your portion sizes. I realized that it was possible to feel full when eating less. I replaced carbohydrates with lean protein and vegetables, and created healthier recipes.
Advertisement - Continue Reading Below
14
Kirsten Helle, Sammamish, WA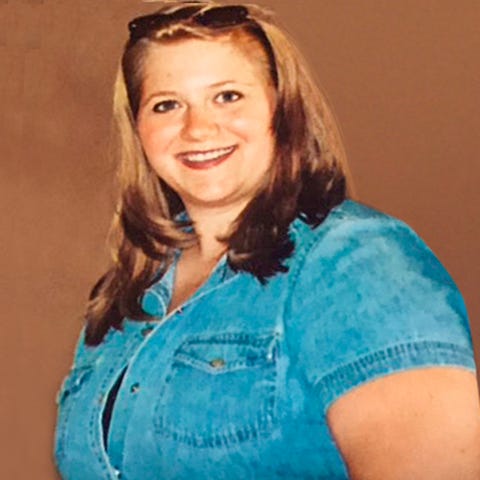 "At 25, I was diagnosed with high blood pressure, high cholesterol and prediabetes, but I figured that was the norm because my family has a history of heart disease. Then one day I was sitting on the couch watching my 2-year-old daughter play. I realized that if I continued down that path, she would follow in my footsteps. Right then and there I decided to create a healthy new family legacy."
Advertisement - Continue Reading Below
15
Weight Lost: 103 Pounds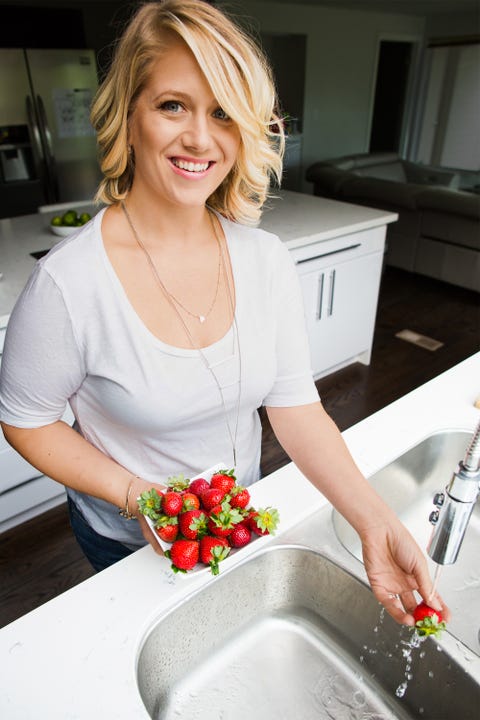 Courtesy of Audra Mulkern
My Weight-Loss Secret: "I was too embarrassed to go to the gym, so I committed to walking three times a day for 10 minutes before breakfast, lunch and dinner. Sometimes I'd just walk in place in front of the TV. After a year, I'd lost about 40 pounds through a combo of diet and exercise. Then I got pregnant with my son. I kept walking, and eight months after he was born, I'd lost 63 more pounds. I've kept off the weight for nine years, and today, I still walk about two miles, three days a week."
What else helped: "If my plate looks empty, it's hard for me to feel full. Now I always make sure to cover it with vegetables so it's piled high with nutritious food."
Advertisement - Continue Reading Below
16
Jessica Larche, Norfolk, VA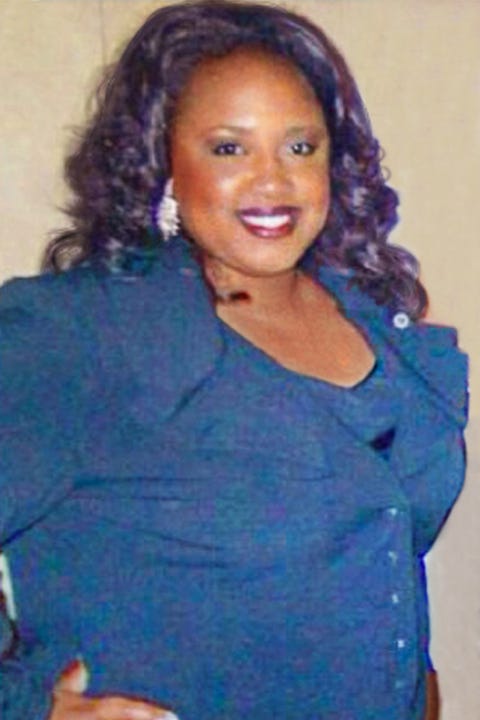 "In 2012 I went to the doctor because I was having bad headaches. Turned out, my blood pressure was 160 over 100, which is dangerously high. I started taking medication and promised myself that I'd stop turning to food every time I was sad, bored or upset. I knew I should start exercising, too, but I needed something that was realistic."
Advertisement - Continue Reading Below
17
Weight Lost: 100 Pounds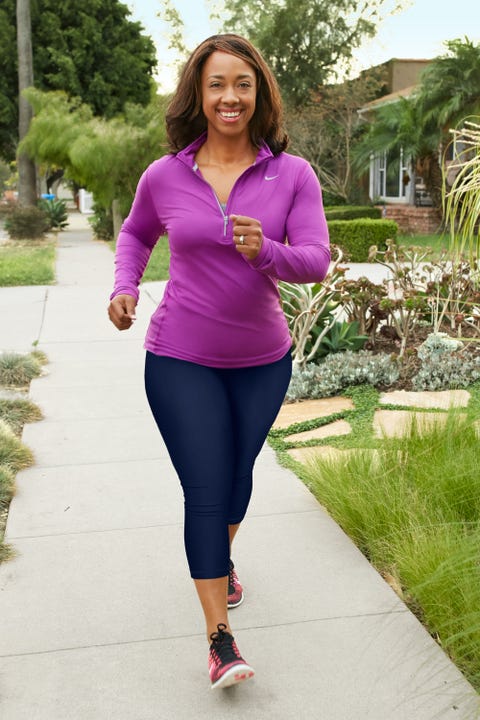 Ari Michelson
My Weight-Loss Secret: "I committed to walking two laps around a beautiful nearby park every night for roughly one month. Eventually I felt comfortable enough to go to the gym, where I started using the elliptical machine as well. I lost 75 pounds over the course of a year and a half. Now I strength-train three days a week and do five-mile walk-run workouts one or two days a week. I'll pick a post, jog to it, then walk to the next landmark."
What else helped: "Pasta is my trigger food, so I use a Spiralizer to make zucchini noodles, which I toss with olive oil, shrimp and red pepper flakes."
Advertisement - Continue Reading Below
18
Tracie Johns, Scott Depot, WV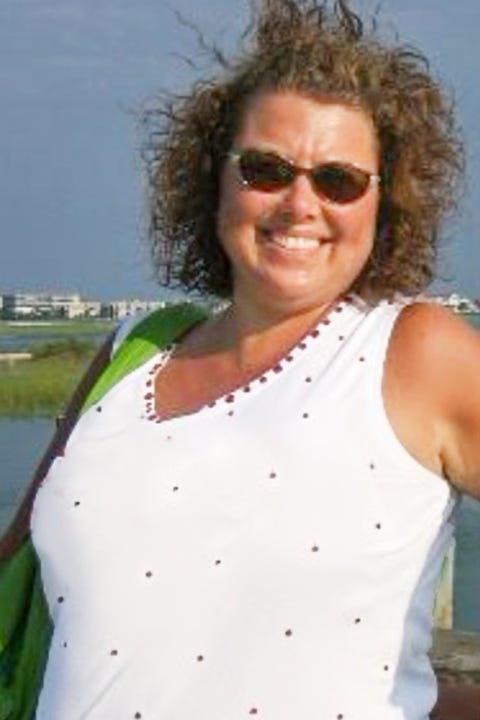 "I weighed 200 pounds when I had to get a hysterectomy in 2011 to undo damage caused by an infection. Afterward, I was lethargic and gained 53 pounds. I was put on two different medications for high blood pressure and another one for acid reflux, plus I had high cholesterol and was prediabetic. I was also having heart palpitations, so I went to a cardiologist and was diagnosed with sleep apnea and put on an oxygen tank at night. My family doctor told me that my sleep apnea would probably go away if I lost weight."
Advertisement - Continue Reading Below
19
Weight Lost: 110 Pounds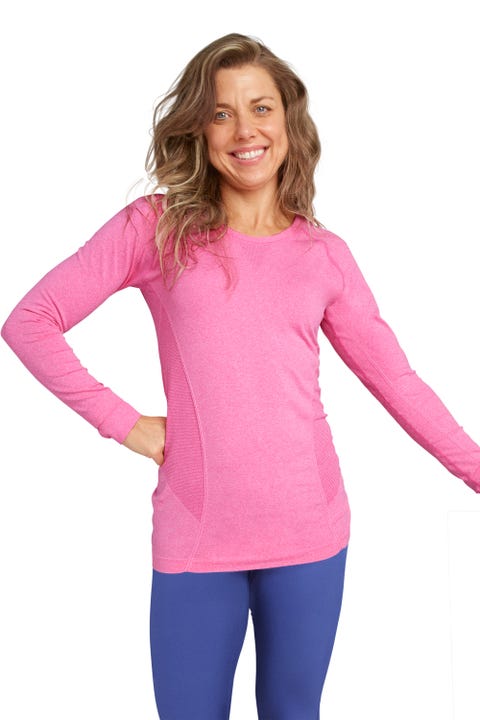 Ari Michelson
My Weight-Loss Secret: "I had a treadmill in my garage that I'd been ignoring for years. I started walking on it for 30 minutes five days a week. Four months later, I'd dropped 20 pounds and added 1-minute jogging intervals. When my weight loss stalled, I started lifting weights three days a week as well. About two years later, I'd lost 90 more pounds. Now, I warm up with 5 minutes of walking and end with another 15 to 20 minutes."
What else helped: "On Saturdays I treat myself to dessert. This weekly treat day helps me feel satiated without going overboard."
Advertisement - Continue Reading Below
20
Vanessa Herron, Thousand Oaks, CA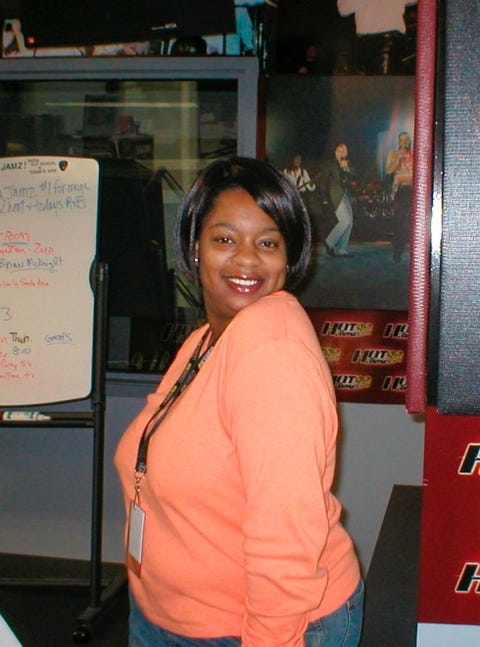 Courtesy of Vanessa Herron
"A doctor's visit in February 2014 was my wakeup call. I was 242 pounds, prediabetic, and my blood pressure was sky-high. I knew it was serious, and I had to focus on getting healthy. The problem: I'm a working mom of four kids ranging in age from 14 to 22, so I have limited time."

Abigail Cuffey is the Executive Editor of Women's Health. Abigail has more than 10 years of experience writing and editing for national women's publications, and more than 12 years of experience working in the health and medical journalism field.